Trying to list top 5 best Indonesian food is not easy, and I realised that most of our favourites are Javanese dishes, but it makes sense, we have spent most of our time on Java when being in Indonesia, as most of our friends live there, and we absolutely love Java and still have so much to explore on this Island alone.
Indonesian food is amazing! I could go to Indonesia just to eat. Saying Indonesian food includes a lot of different food tho. All regions, all cities, have their own cuisine and speciality. Whenever I go somewhere in Indonesia and talk to my Indonesian friends about it, they tell me what to eat in that place. Food is very important in Indonesia and you will never have to go hungry!
Between the two of us, these were the top 5 Indonesian dishes we agreed upon:
1. Bakso
We both absolutely love this simple noodle soup with meatballs – it's both of ours favourite Indonesian dish! The best Bakso, you will find on the street. I've only seen it once in a restaurant, and it wasn't very good. It's a central Javaneese food, so the really amazing ones, you will find in Central Java, around Yogyakarta. M favourite Bakso place is in Mendut (see blog post about it here LINK!). It's not a spicy dish in itself, but at all Bakso stalls there will be sambal (chili), which you are supposed to add in the soup to your liking as well as kecap manis (sweet soy sauce). So if you find yourself in central Java make sure to try Bakso at a street stall, it's super cheap and yummy!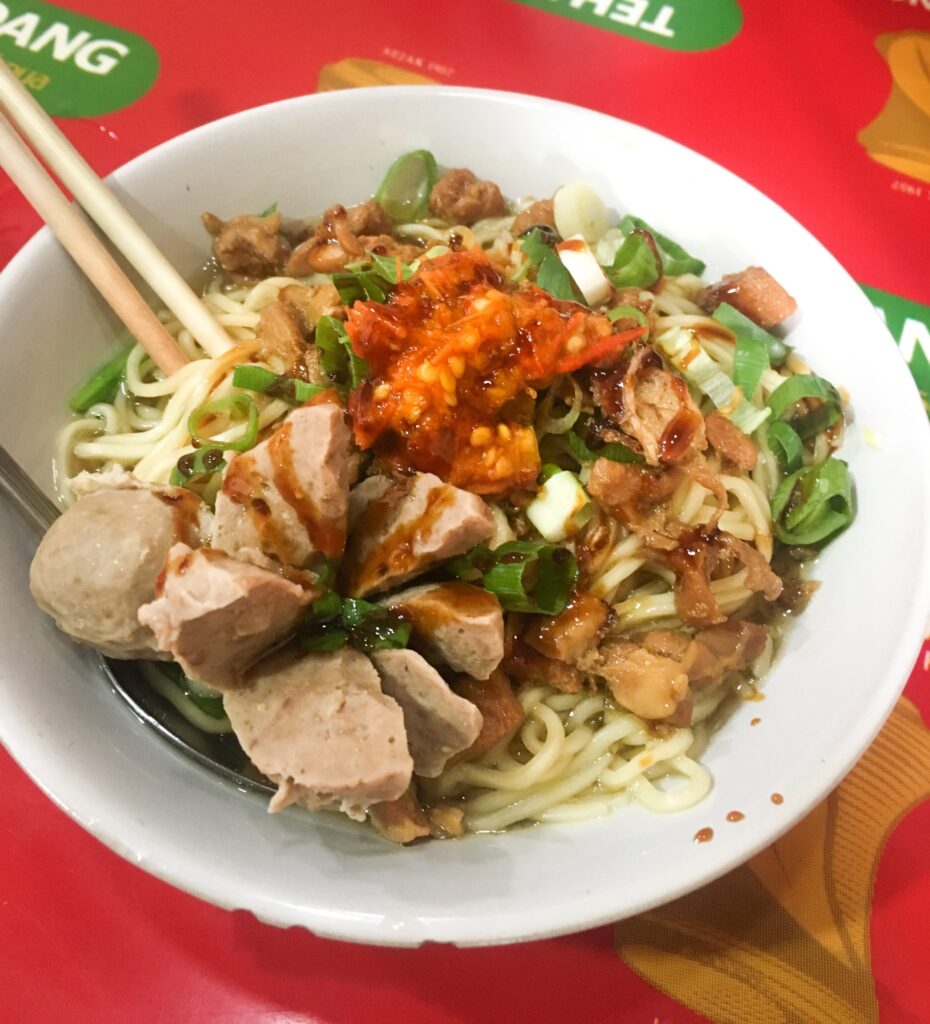 2. Tongseng
Tongseng has been a favourite of mine from my first trip to Indonesia. It was the first street food I tried at a stall outside my work in Jakarta. From that moment I was sold on street food in Indonesia and Tongseng! Again, this is a central Javanese dish, from Solo I think, and also a soup. Tongseng is made with a coconut milk base and traditionally with goat or lamb, but in most places you can choose chicken instead. I prefer it with lamb, while Sam usually goes for the chicken. It's also super spicy and so rich in flavour! The best Tongseng you will definitely find at the street, and as with Bakso, you won't find many restaurants serving it, and if they do it won't be as good as on the street. Trust me!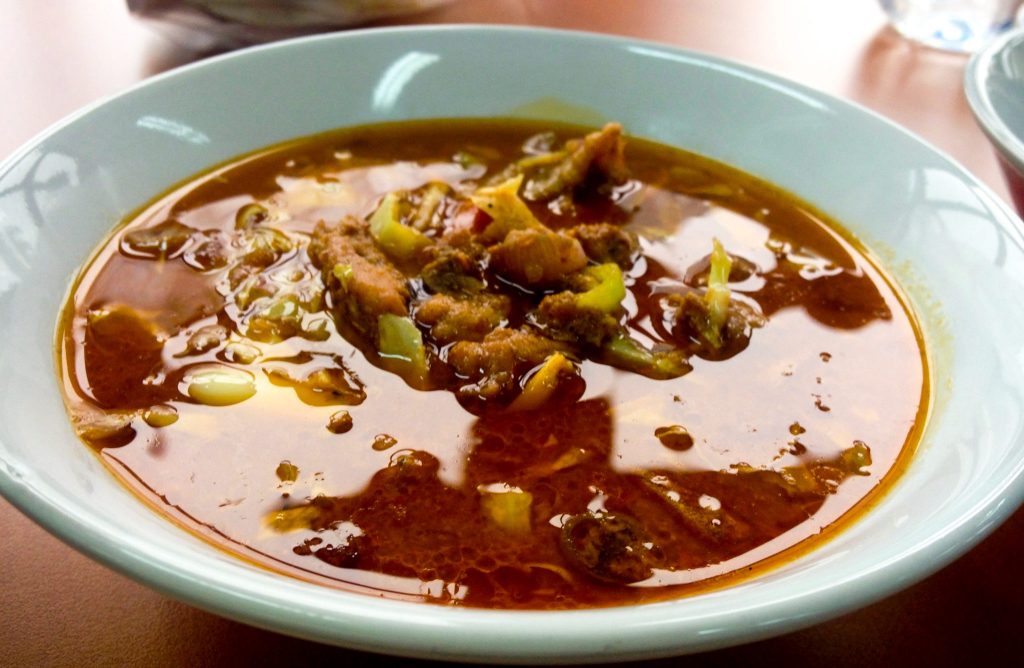 3. Ayam taliwang
All chicken in Indonesia is pretty fantastic, but Ayam Taliwang is one of Sam's favourite dishes. A very spicy chicken dish with loads of chili on top, originally from Lombok. This is more of a restaurant or warung dish rather than something you will find in street stalls.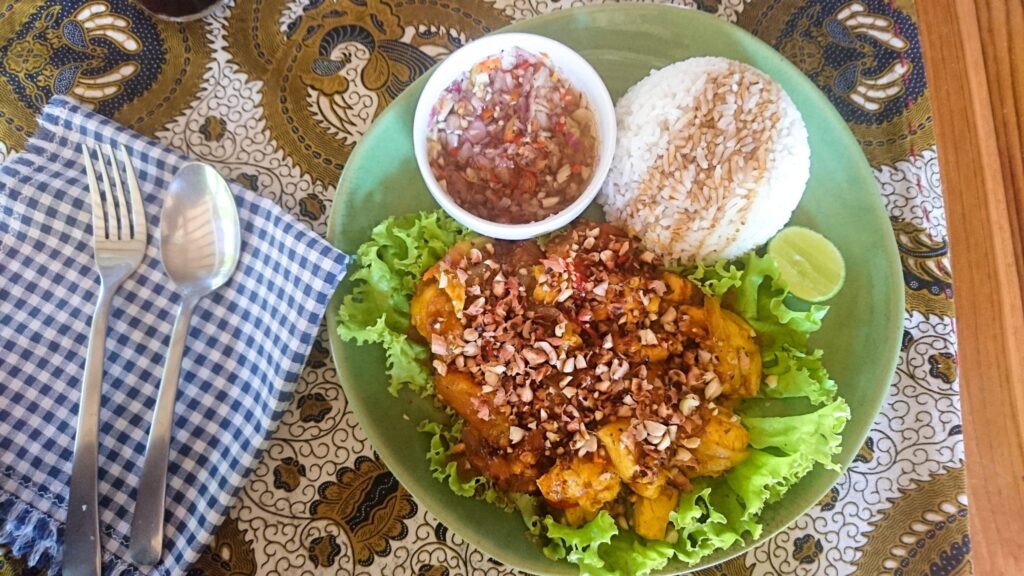 4. Sate
You won't be able to travel to Indonesia without seeing sate stands. On Bali or in Manado they will most likely serve pork, chicken or fish, on Java and Lombok you will instead find beef, chicken and fish sates. This is the ultimate street food. You can find it anywhere and it will probably be great anywhere.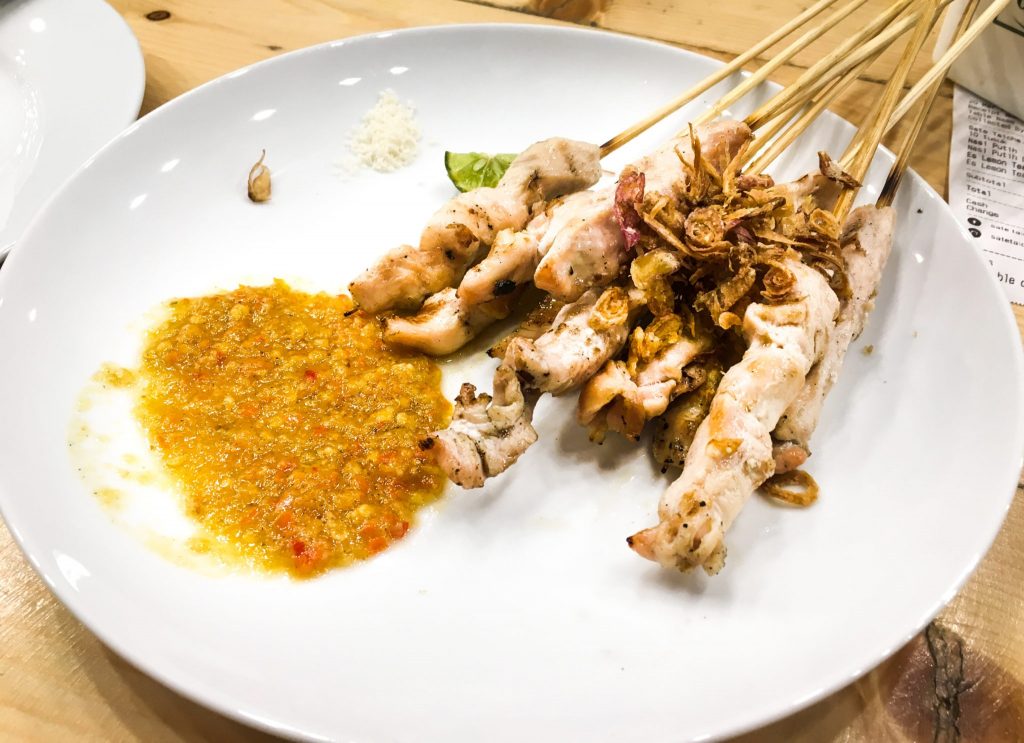 5. Nasi uduk
Nasi Uduk is not really a dish in itself, it's rice cooked in coconut milk and spices. But you will see Nasi Uduk Komplit at many restaurants, where you will get chicken, tempe etc. and Nasi Uduk. It's originally from Jakarta, but you will find it across Indonesia. I absolutely love this super fragrant rice. I'm a rice person in general, and love rice – but Nasi Uduk is playing in it's own league of rices.
6. Extra: Sambals
Sambal is basically a sauce based on chili. There are so many different types of sambal, and all regions, cities, places have their own local version. We love trying different types of Sambals when we travel in Indonesia. My favourite sambal is Colo Colo – from Maluku, I haven't seen it in many places outside Maluku. Should be served with fish, but works as good with chicken! We could probably make a whole blog post about sambals alone, but we will spare you that, for now.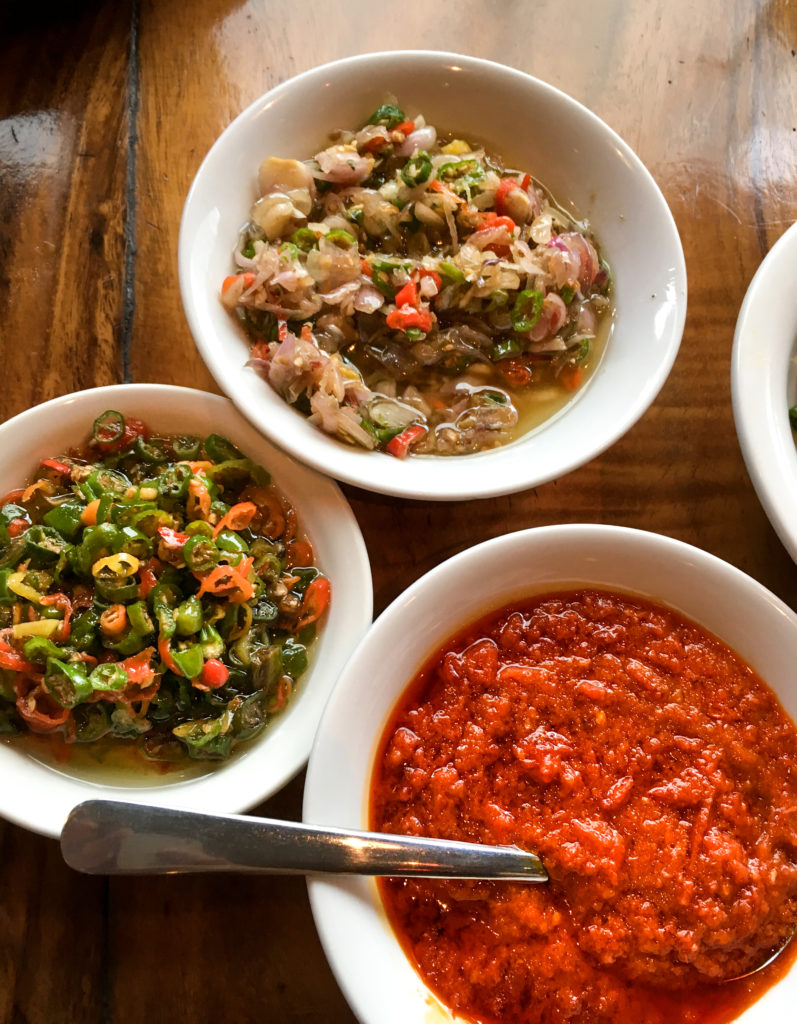 So difficult to choose just 5 dishes.. there are so many other great dishes, I mean just all the pork and duck dishes you find on Bali, or the super spicy kitchen of Manado. Mmm…
More Indonesia!
Make sure to see our Indonesia page with a map to all our tips on where to go and eat these dishes!