Bosnia-Herzegovina Travel Tips
We had no clue what to expect when entering Bosnia Herzegovina from Croatia, but we both completely fell in love with this beautiful country and therefore ended up spending a whole month traveling from north to south. Bosnia is full of history, beautiful nature, super friendly people and delicious food. On this page you can read all our Bosnia travel tips to make your trip great. For more tips and ideas, head to the bottom of this page, where you can find all our blog posts from Bosnia and Herzegovina.
Bosnia and Herzegovina is a bit of the radar, with few tourists visiting (except for a few places, such as Mostar). But it's definitely a country worth visiting. It's very diverse, and travelling from north to south let us experience different regions of the country. Many people have the idea that Bosnia would be unsafe to travel in, this can't be more far from the truth. We met some of the friendliest people here. 
There is a sad history in Bosnia, and you can still see traces of this, especially in Sarajevo. But the country has really started to bounce back and the younger generation is not so bothered about what happen, but rather about the future. There are still some issues in this country, such as economical, but this is not a reason to not come here. 
We can't recommend visiting Bosnia and Herzegovina enough and we hope we can inspire you to do so. 
Bosnia-Herzegovina Travel Map
See our top tips for Bosnia-Herzegovina in the map below.
There is loads of good accommodation everywhere in Bosnia. We mainly used AirBnb and Booking. Make sure to check Booking.com as you can sometimes find the same place as on AirBnb but cheaper. As a couple it was very easy to find apartments for a very good price. We try to stay for about €20-25 per night. In some places the standard might be a little lower than what we're used to in western Europe, but if you can pay around what we paid, that will never be an issue. The most expensive place was Mostar, which makes sense as it's also the most touristy destination.
We never stayed in a hotel, and only once at a hostel (private room). We can really recommend staying in an apartment with a host, such as via AirBnb. They usually went above and beyond to help us with travel information or any other questions we might have had. It's also quite common to be welcomed with a glass of rakija (local brandy), at any time of the day.
We loved Bosnian food! Food in general is very hearty, with a lot of grilled meat and pots. It might not be for vegetarians, but if you eat meat – you're in the right place!
The most common dish you will find is Cevapi. Grilled sausages made of beef mince, served in bread with (raw) onions and sometimes cream cheese. If you are on a budget this will be your staple diet. Cevapi differs a bit depending on where you go in Bosnia, but the absolute best one you can find in Travnik, people from other areas of Bosnia told us this as well.
There is not many fast food chains in Bosnia, there's only two McDonalds in the whole country, both in Sarajevo. Most food is local and organic. As imported food is expensive, most food is also seasonal. We found this a very nice way of eating, as it's better for the environment and all food is super fresh. Vegetables were not very common, we mostly ate tomatoes, onions and cabbage. But might also have been because we travelled during fall. We always ordered a seasonal salad together with our meals, which consisted of tomatoes and cabbage.
Bosnia only has a very small coastline, so fish is not very common unless you stay close to any of the bigger rivers, such as Pliva.
Bosnia has many, many forts, just like the rest of the countries in the Balkans. Most cities will have a fort that you can visit. Even if the fort itself is not always super interesting, the views are usually gorgeous. The entrance fees are also very cheap so we found it very worth while, if only just for the views.
In general Bosnia is not so catered towards tourism, especially not the northern parts, so we mainly enjoyed local life, such as sitting at cafes and try out different places to eat. In Sarajevo you will of course find more things to do, such as museums, cable car, old town, etc.
There are also a lot of nature actives, such as hiking, fly fishing in Pliva etc. Depending on the time of year, at winter time you can go skiing in the mountains. The nature is absolutely breathtaking and very untouched so make sure to head somewhere 'naturey' when visiting Bosnia.
We arrived to Banja Luka, in the north of Bosnia by bus from Zagreb and we continued to travel by bus all the way to the south and into Montenegro. Bus is king in the Balkans in general, and same goes for Bosnia. The train lines are not developed, and mostly used for goods. Bus is super easy to travel by and you can go between most places directly or with one change. If you go north – south or vice versa you will always find a direct line. While east or west you might have to change somewhere on the way. It is also a very cheap and fast way to travel in Bosnia.
You never have to buy tickets in advance, just rock up at the bus station before the bus is supposed to leave and buy a ticket. We even tried to buy it in advance one time and the guy told us to come back the next day a little before departure and buy the ticket.
Bus stations are usually in quite good locations to head into the cities. The only place where it was very inconvenient placed was in Banja Luka. It was far from centre and we arrived without any Bosnian money, and there were no ATMs, so we couldn't jump into a taxi either. There is a ATM about 10-15min walk from the bus station. Other than Banja Luka, we had no issues walking into the city or using public transport.
If you want to go to more remote places where there is no bus. You can go to the closest city/town where the bus goes by and then take a taxi the last bit. Taxis are not very expensive. When we went to Pliva, we got a taxi all the way from Banja Luka (about 70km and 1.5 hours) for €35.
Cost of Travel in Bosnia-Herzegovina
We try to live on a budget of €1000 per month per person, €2000 in total for the two of us each month, which gives us €66 per day for the two of us. 
We are not super cheap when we travel as we still want to experience the places we go to. We tend to choose accommodation where we can cook, at least breakfast. But we do not usually eat all our meals at home.
Below you can see how much we spent in each category. The total cost for 31 days for the two of us was €2031.50, which ends up being €65.50 per day for the both of us, which is just under budget. 
Accommodation: €649.50

32%

32%

Food: €820.50

40.4%

40.4%

Activities: €18

0.9%

0.9%

Travel: €213.50

10.6%

10.6%

Coffee: €79

4%

4%

Alcohol: €94.50

4.7%

4.7%

Miscellaneous: €156.50

7.8%

7.8%
Categories Explained
Accommodation: we opt for places with a kitchen, where we have a private bathroom. We prefer staying in apartments and we usually do not go for the cheapest option, but still keeping it under midrange. 
Food: in this category all restaurant visits and supermarket purchases are included. We try to keep this cost low but we really do enjoy trying local food. Included in this category is also drinks with dinner and lunch, we usually drink water or a soda to lunch and a beer or a glass of wine with dinner – however all alcohol drunk outside of meals is not included in this category. Restaurants are kept to budget and midrange places, we tend to go to a nicer restaurant about once a month to celebrate.
Activities: all actives are included in this category, such as museums, entrance fees to attractions etc. However, this tend to be low as we prioritise other parts of our travels.
Travel: this category includes all transport between places as well as within cities. Here we try to opt for the cheapest options. We only use taxi/uber when we need to and walk a lot within cities. The biggest part of this category is the busses we take between destinations.
Coffee: we love to try to find the best coffee places everywhere we go. Therefore we decided to have a coffee category which includes all coffee we drink except for the coffee we have for breakfast. We usually have one or two coffee stops per day.
Alcohol: all alcohol that is not consumed with a meal is added to this category. We are not big drinkers, but in Bosnia we did go out more, especially in Sarajevo as we have friends living there. 
Miscellaneous: in this category we add things like toiletries, cigarettes, medicines, ATM charges, Sim cards + data etc.
All our blog posts from Bosnia-Herzegovina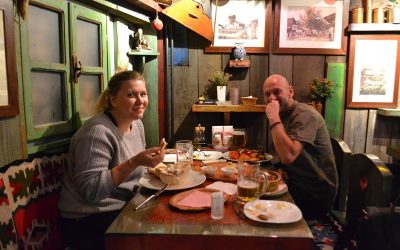 We ate such good food in Bosnia-Hercegovina. Traditional food is often prepared with meat, and meals are plentiful and delicious. The food is usually made from scratch with local and seasonal ingredients, and by definition organic. The cuisine is similar to that of...
read more