Before we went to Albania we had read some horror stories about travel through Albania by bus. These blogs left us quite uncertain and even a little scared. We got on a bus in Kotor, Montenegro, that would take us to Shkoder, in the Northern part of Albania.
We started off in a big bus with only one other passenger going through the mountains and south towards Albania. It all went very well and immigration at both borders was quick and easy, we didn't even have to get off the bus.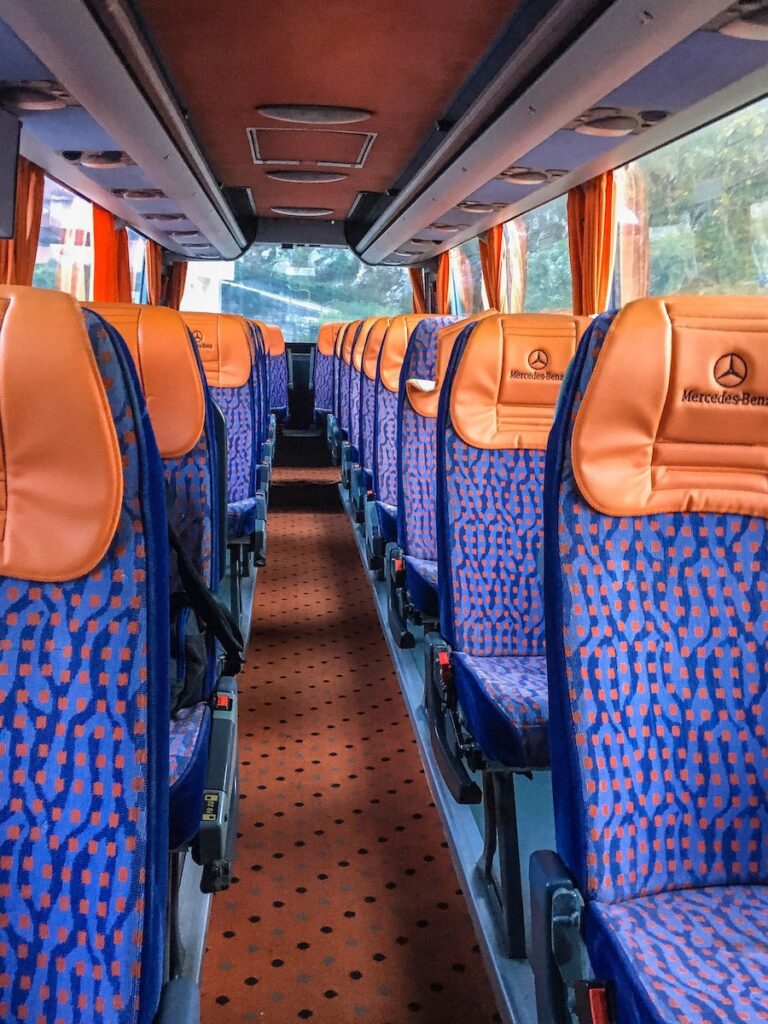 Shortly after we entered Albania the bus stopped at a petrol station and we had to change into a so called Furgon, a minivan/bus which are very common in Albania. After the change we continued south and got to Shkodra without any hick ups. The bus stopped at a roundabout in the centre of the city, we got our bags and jumped out.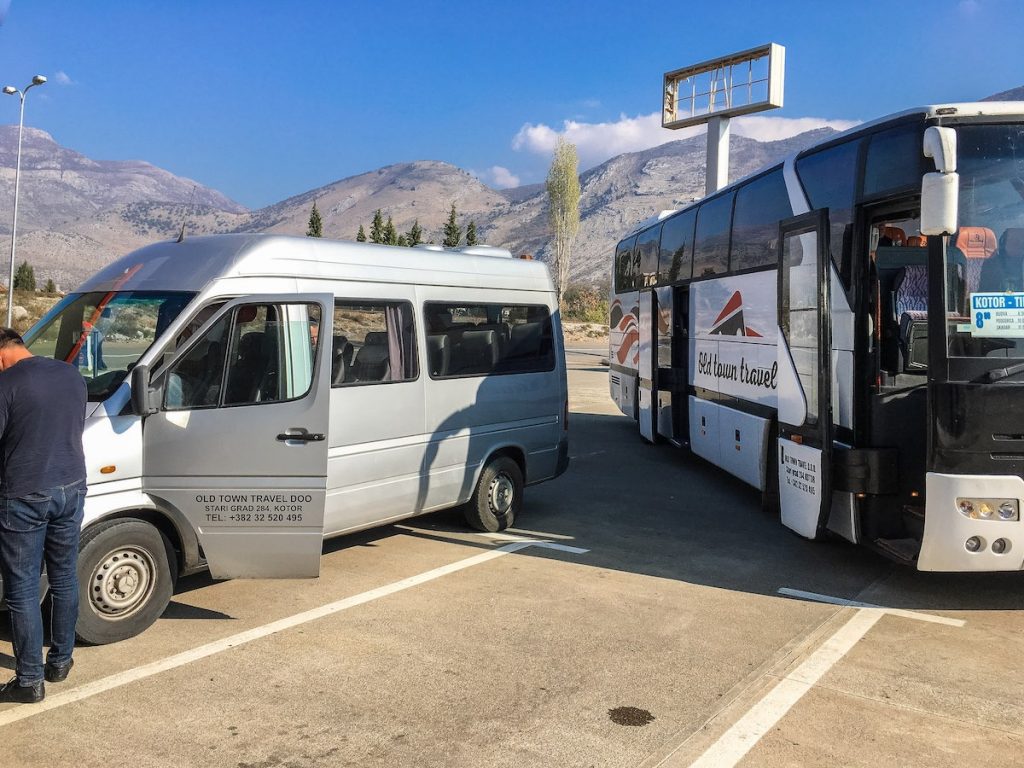 We quickly learned that this roundabout was Shokdra's "busstation". This is what many blogs were on about, that there was no busstations and you just had to know where in the roundabout your bus would stop. However, there are always guys shouting out where the bus is going and help you with your bags, so leaving Shkodra was no issues at all. We first asked at our hotel where the bus to Tirana was going from and they showed us on a map, where a guy was standing on the sidewalk shouting out Tirana, so we doubled checked and then got on.
So our first leg of our journey by bus through Albania was no issues, and it actually continued that way fortunately.
Busstations in Albania
Busstations are not in a huge thing in Albania, only a handful of places has a "real" busstation, such as the one in Berat. But this busstation was also quite far out of the centre of Berat. Most busstations was just a parking lot. Without any station house or anywhere to buy food or drinks, so make sure to get that before leaving for the bus.
The one place it got a bit confusing for us was in Tirana. As there are a few different busstation depending on which direction you're going.
Another good thing to note is that as there are no specific busstops or stations really, you can jump off and on wherever you want on the road, just tell the guy taking payment and he will ask the driver to stop.
Bus schedules and Timetables in Albania
Do not try to check time tables online for busses in Albania. You won't find the information, and if you do it is most likely wrong. Most busses we were on shouldn't even have existed according to google searches. Yet, we could still find the bus we wanted by asking.
As there usually aren't any real busstation, you won't find time tables either. So what you have to do is ask a local. In some places they had a small little office next to the parking lot busstation. In Gjirokaster this was the case, and on arrival we asked how to get to Korca and that's how we got on a bus that shouldn't have existed and had our most memorable bus journey to date.
To common destinations you will have plenty of busses per day, however, if you're like us and going to some random places, there will only be a couple of busses per day. Sometimes just one per day. So it's always good to ask upon arrival or a couple of days in advance so you can plan your next leg of the journey. If it's only 1 bus a day it's very likely it leaves early morning, which is even more reason to check at least a day before to not miss it.
We found people extremely helpful and even if we had no clue how to get to our next destination there was always someone around to help out.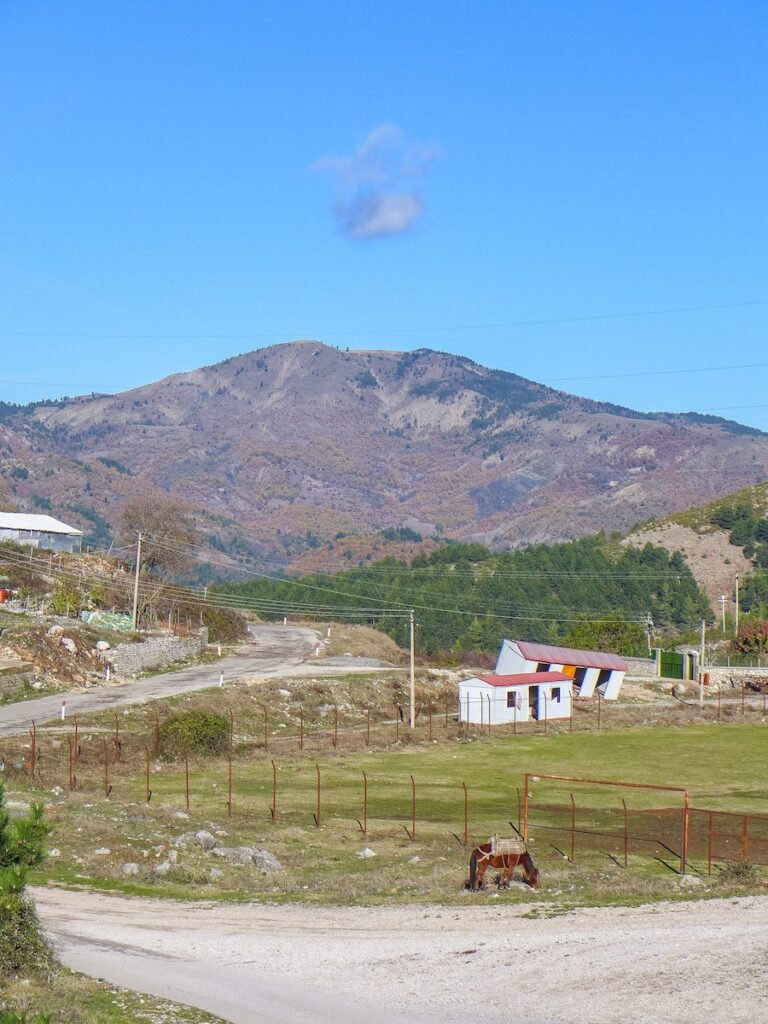 Cost of travel by bus in Albania
Busses in Albania is dirt cheap, short bus rides, 1-2 hours are a few euros per ticket, and long ones could be up to 10 euro per ticket. But we only had one long domestic bus for that price, otherwise we never paid more than 4-6 Euro total for the two of us. It also always included bags, it's not like the other balkan countries where you have to pay extra for the bags.
If you're a group of people you could also rent a furgon, mini bus, with driver. We were 9 people who were going to the same place, and there was only one bus a day which we all wanted to catch. However, as this was a furgon bus we would never all fit with our bags and other passengers. So for 10 euro p.p. we could rent our own furgon with driver, for a 5 hour journey, Berat to Gjirokaster. Which only worked out to be 3 euros more per person than catching the scheduled bus, plus we got picked up at the hostel! This could definitely be a good option for a bigger group of people.
Safety
In general, people drive a bit more crazy in the balkan countries than what were used to, especially compared to Sweden. Between big cities it's usually a big pretty straight highway, so it will be an easy ride. And most likely quite fast.
If you go through the mountains however, you might have some moments of holding your breath. We had one of those bus rides, on small mountain roads, and to make it worse, parts were in fog. Everyone drove quite fast on these roads, faster than we were comfortable with. There wasn't much traffic but still enough for us to be a bit uneasy parts of the ride. But we made it to our destination safely and I think the people that go on these roads are so used to driving on them so it isn't as dangerous as you might think as a passenger. That's what we told ourselves anyway…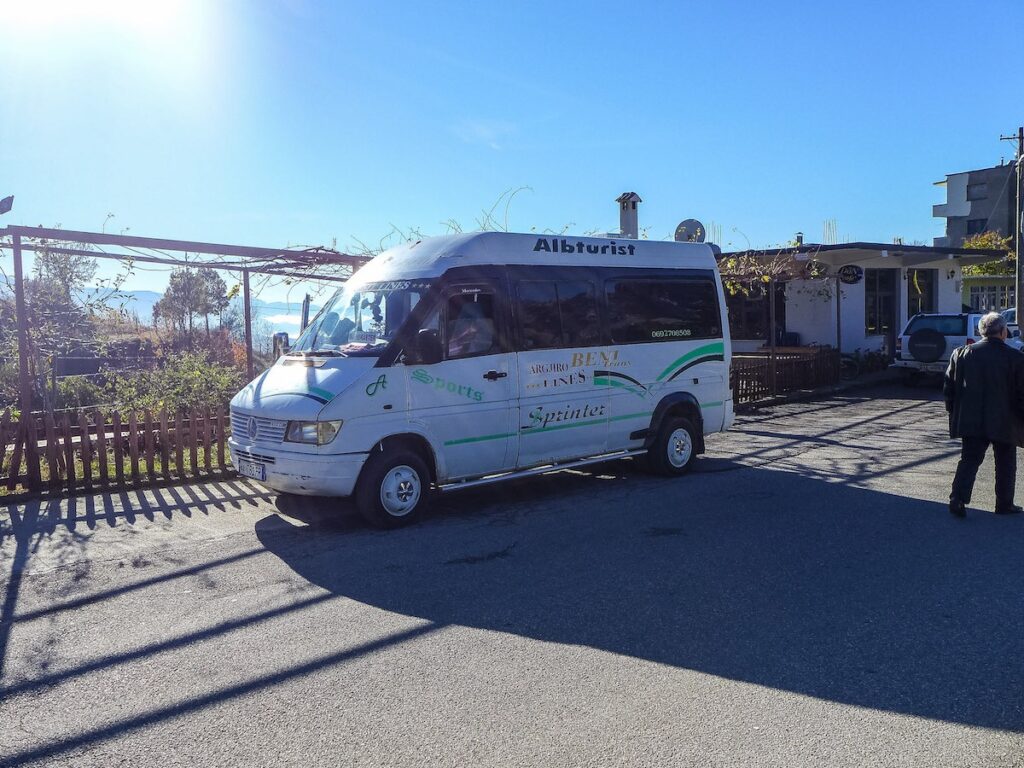 The verdict: How easy is it to travel through Albania by bus?
Super easy! We had no hick ups and no issues. It might not be the newest most comfortable busses, but they will take you where you need to go for a small price. You just have to be prepared to ask locals for help, and if you want to go to more off beat destinations there might be only one bus per day.
So even if it might be a tiny bit more hassle than other countries, it's still super easy. You will also be blessed with amazing landscapes and nature wherever you go in the country. It can also be very social, especially on the furgos where you get close to the other passengers. We shared a long bus ride with some very sweet Albanians, who tried to talk to us and we all shared our food and snacks in the bus.
All in all, we really recommend travelling by bus in Albania. It was such a great experience and we were left with memories for life.