When you think of Borobudur you think about the temple. It is a truly magnificent temple for sure, beautiful and definitely worth a visit. It's also quite romantic, and where Sam proposed to me. Make sure to do the sunrise tour if you come, it is very beautiful! Even if it might be full of people, it's still definitely worth it!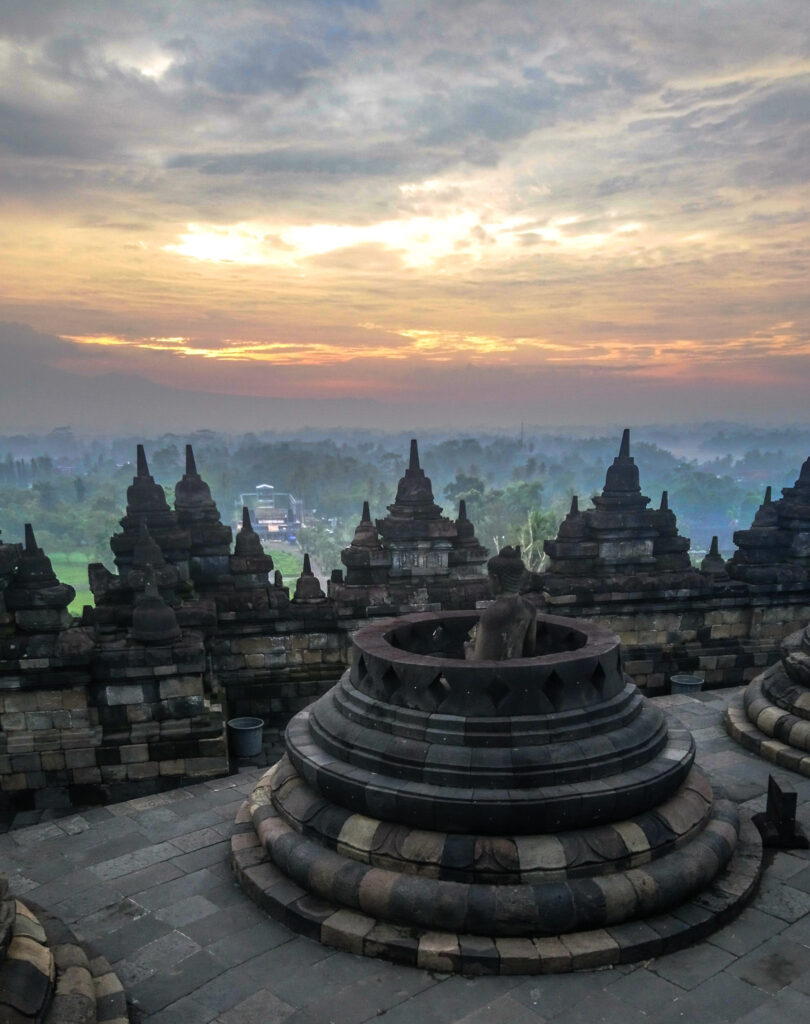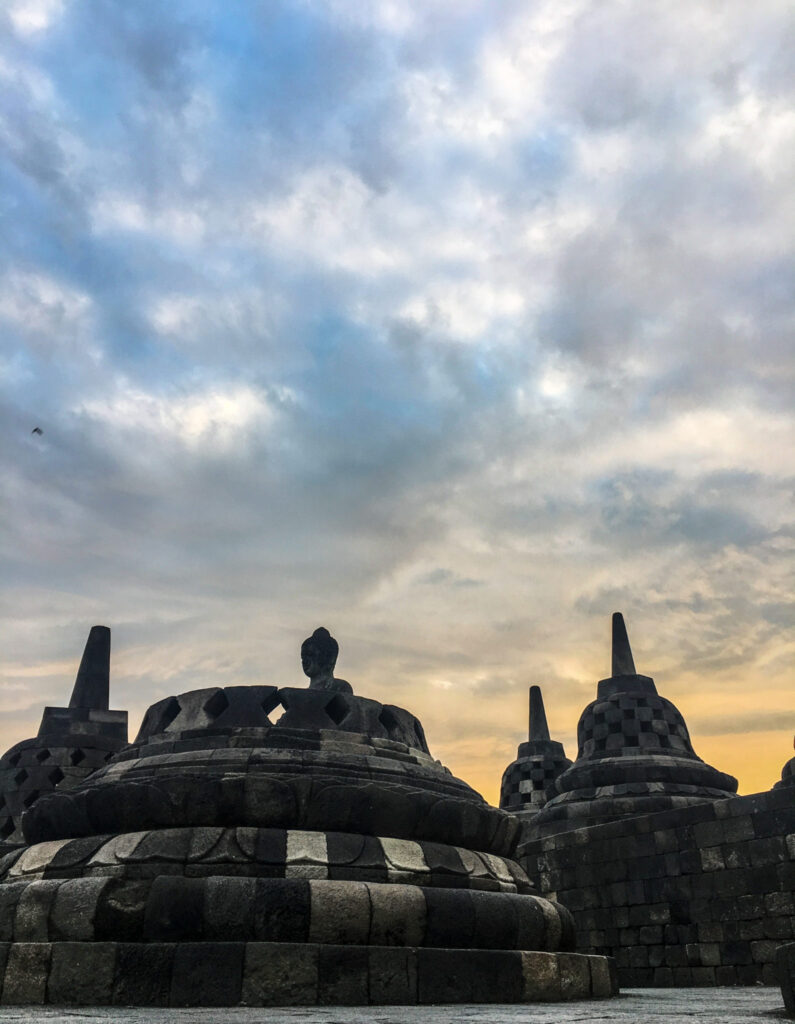 Most tourists just go to their hotels for a night and do the sunrise tour of the temple, but I definitely think this area is worth staying in for longer. But there is so much more to this area than the temple. It's actually one of my favourite areas in Indonesia, with loads of greenery and small villages to explore, and extremely friendly people. 
Earlier this year, we stayed in this area for a week. We did do a lot of relaxing by the pool as well during this time, as we needed some rest, but we did explore quite a bit as well. I've been to Borobudur twice now, but for Sam it was the first time. The first time I was there, I did what most people are doing, 1 night at a hotel, the sunrise tour of Borobudur, a horse carriage ride around the closest village of Borobudur temple and then left. But I really felt like I wanted to come back to this place. I saw so much beauty during this trip so I was very happy to come back and spend some more time. 
What to Do in Borobudur off the Beaten Track
This area is so beautiful, the nature, the people – it's all a but magical. Don't be afraid to venture out from the hotel areas into the villages. My favourite thing to do is just to stroll through the village around the temples, walk on the small back streets. You will meet people who will talk to you and it's super easy to interact with anyone you meet. They might not speak English but gestures and a few words in Bahasa will help. When we did this we ran into all sort of things happening, like a little local festival, some nice coffee places etc.
You can also rent a bicycle at some places and bike around the villages. Don't do this midday like we did… it's going to be too hot and you will burn. I managed to burn my hands for the first time in my life.
Also check out the small temple, Mendut. Many tourist do this on their way to and from Borobudur. It's super small, just one room with a huge Buddha in it. But it is quite pretty.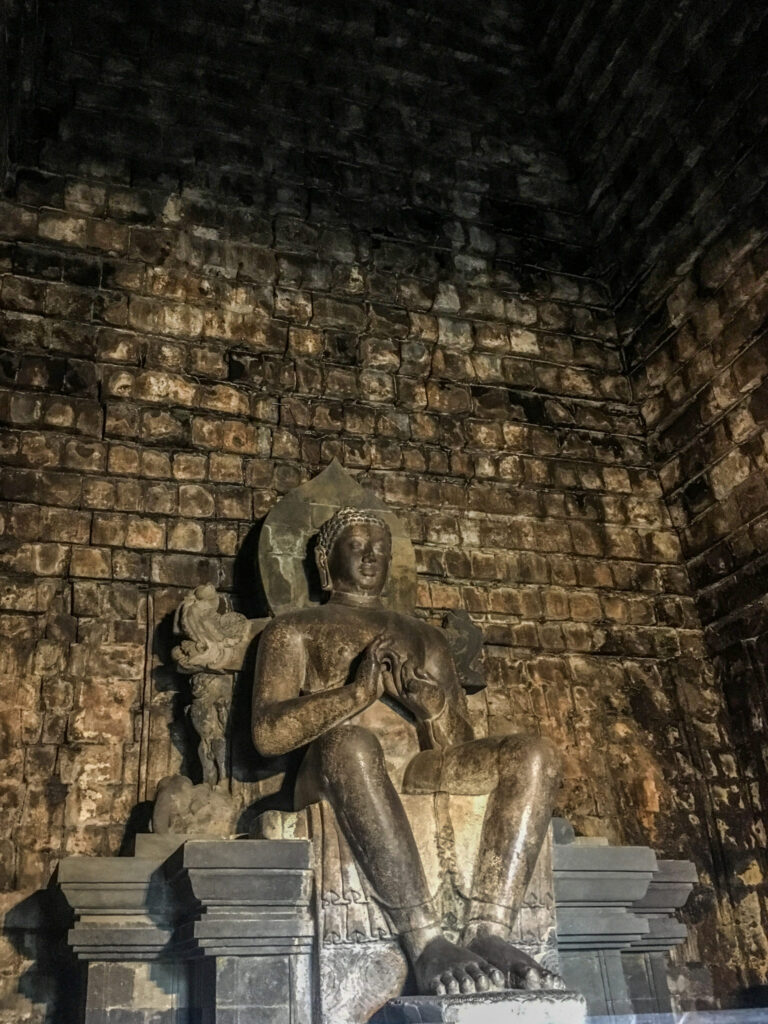 Where to Eat Like a Local, Borobudur off the Beaten Path
We had some of the best food we've ever had in Indonesia here, especially Bakso and Tongseng (see our blog post about Indonesian food for more info). There places are all close to the Mendut Temple, for exact location see our Indonesia travel map.
Bakso & Mie Ayam Pak Min Wonogiri
This little street stall styled Bakso place is where we had lunch everyday. It's the best Bakso I've tried to so far in Indonesia and it will only set you back around 0,60Euro for a portion. Don't be scared by the very rough interior, we ate there plenty of times without having any issues with our tummies. The staff doesn't speak English but are super helpful and friendly.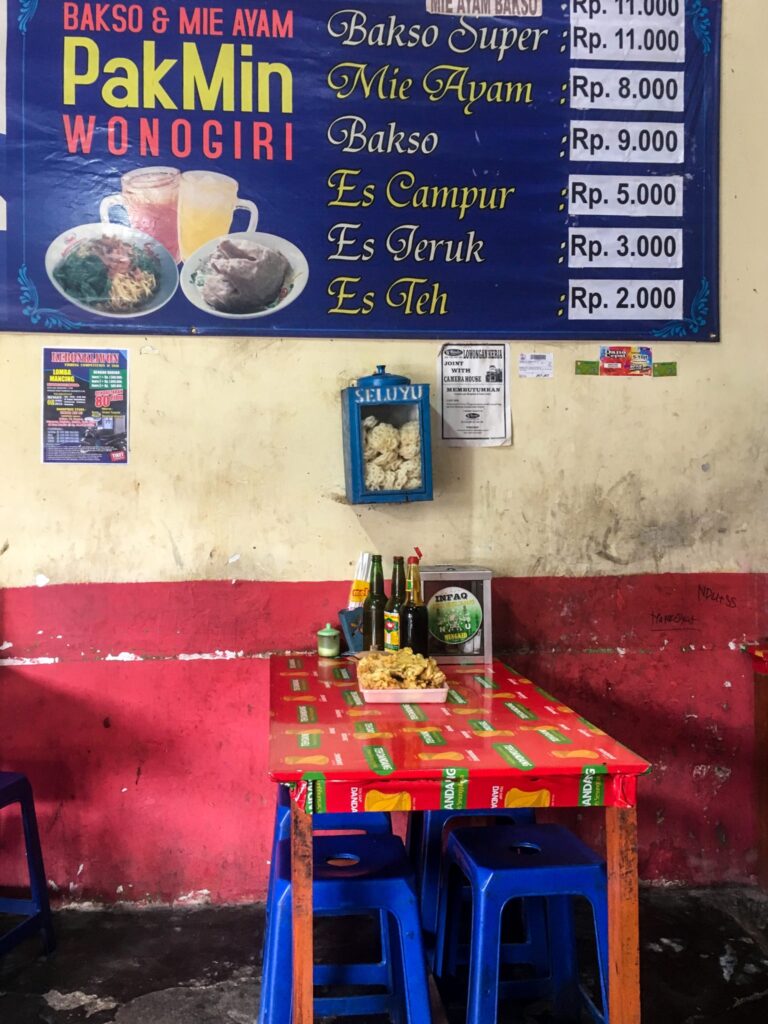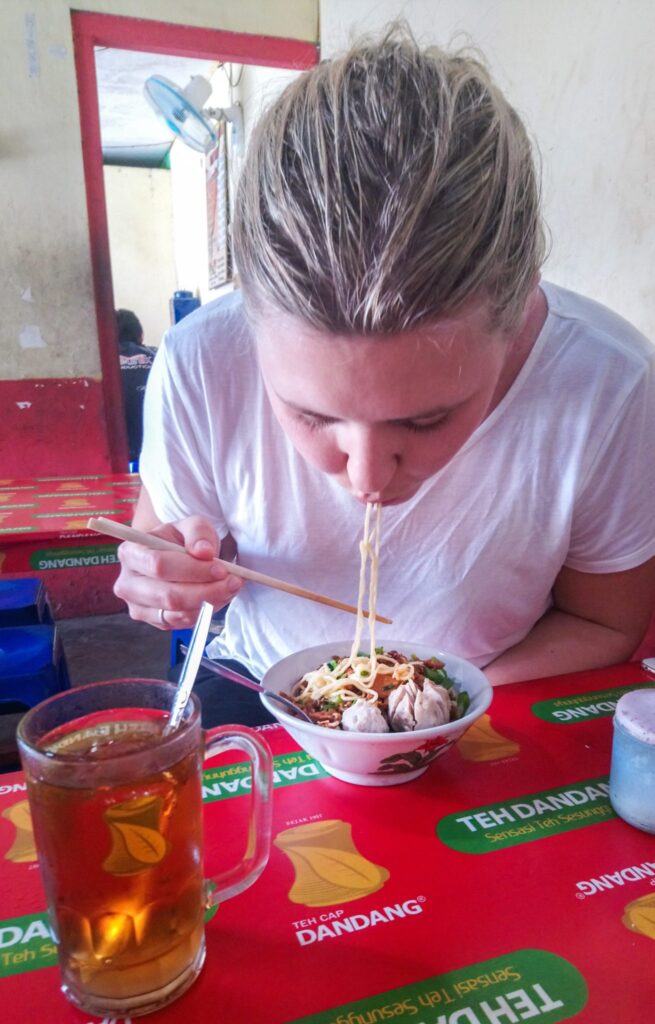 Rumah Makan Sate Dan Tongseng Mbak Ning
Possibly the best Tongseng in the area! It's a very local restaurant, but again, don't be scared by the look from it. The food is well prepared and the Sate is made on order. It's very cheap and you won't leave hungry!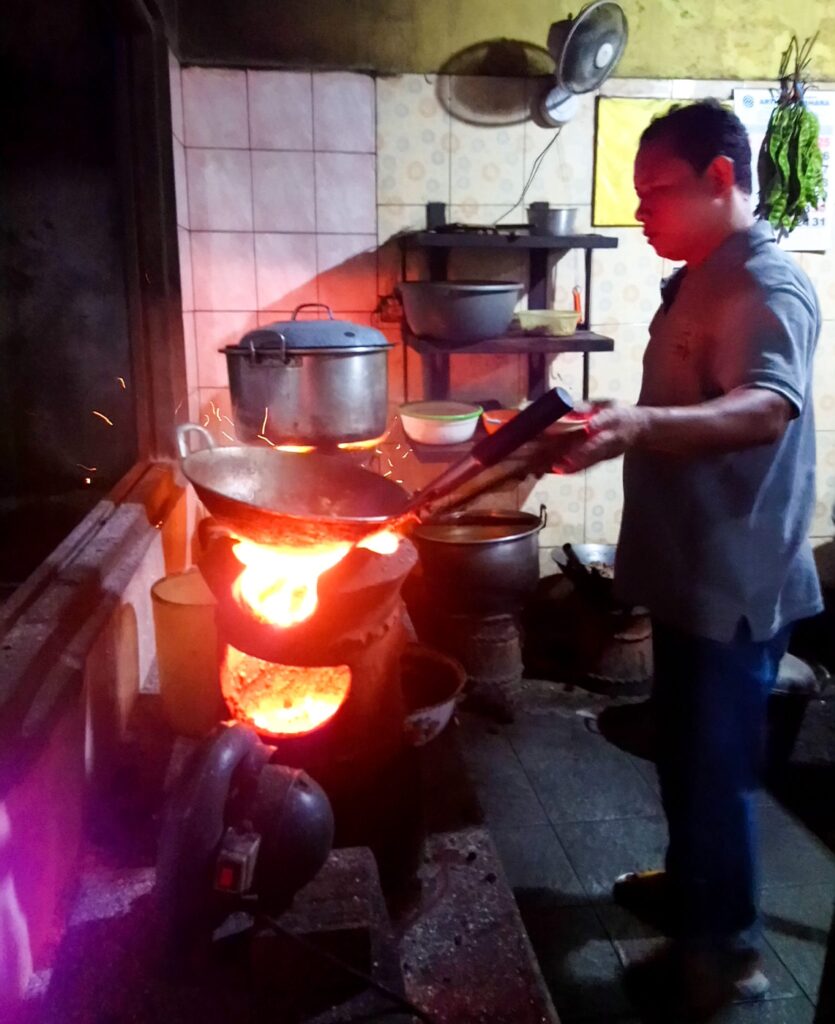 Nak Djadi
This place serves Tongseng and Sate. The man running it is super friendly and came up to check we had a good time and enjoyed the food, which we did! This place looks a little bit nicer than some of the other places on this street and if I don't remember wrong it was also a little bit more expensive than Mbak Ning for example. However, this does not mean much, as for a Westerner it is still very cheap.
As with many places, the best thing to do is just to walk around and see what you stumble upon. That's how we like to travel, and when we do that – that's when we have the best days! Rather than trying to plan everything. 
Where to Stay
There are loads of options of where to stay around Borobudur for all budgets. Try to choose an option in one of the villages to get a more real feel how it is to live here. We stayed at Amata Resort Borobudur, which was great! A midrange option, with great value for money. We really enjoyed our time there and the staff was super friendly and helpful.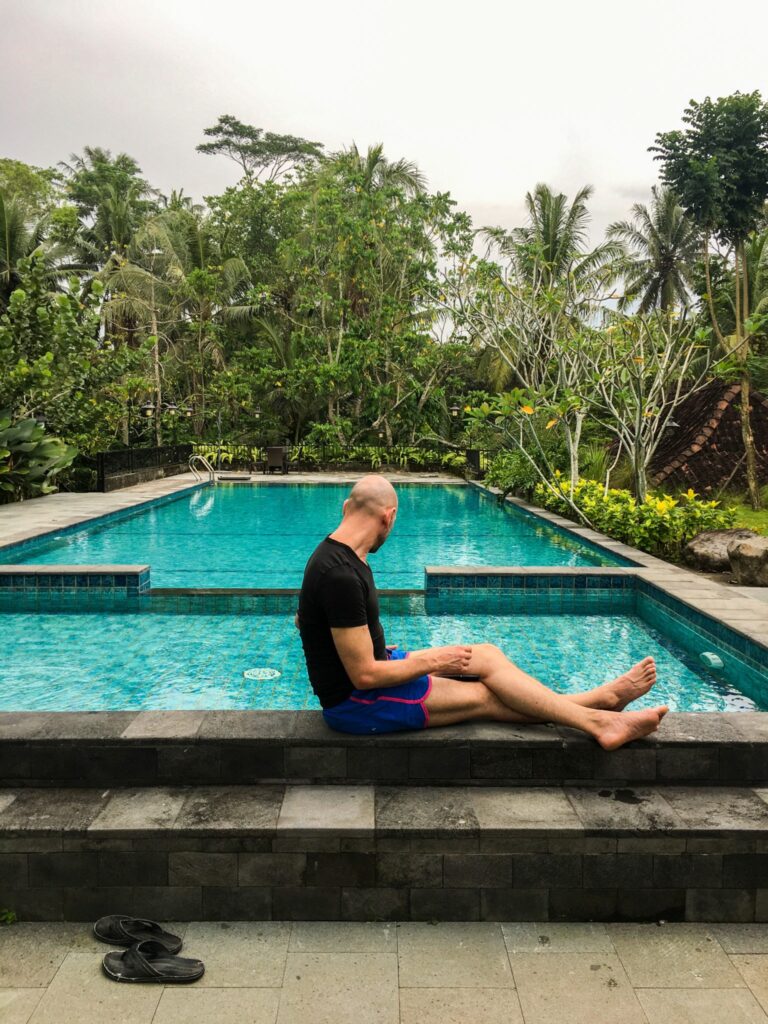 More Indonesia!
Make sure to see our Indonesia page with tips about travel in Indonesia, map and all our blog posts about Indonesia.