We came to Gjirokaster in November, very very low season, and we were pretty much alone. We only saw two other tourists during our 2 nights there. This also meant that a lot of the shops and restaurants were closed, however, as there are locals living there as well some places were open. And we got a more local experience than during high season, which was great.
Gjirokaster is one of the most beautiful towns I've been in. It's another of Albanian's fairytale towns in the mountains. It is a must stop on any Albania trips. And if you go off season it will be super quiet, which gives it a more village feel.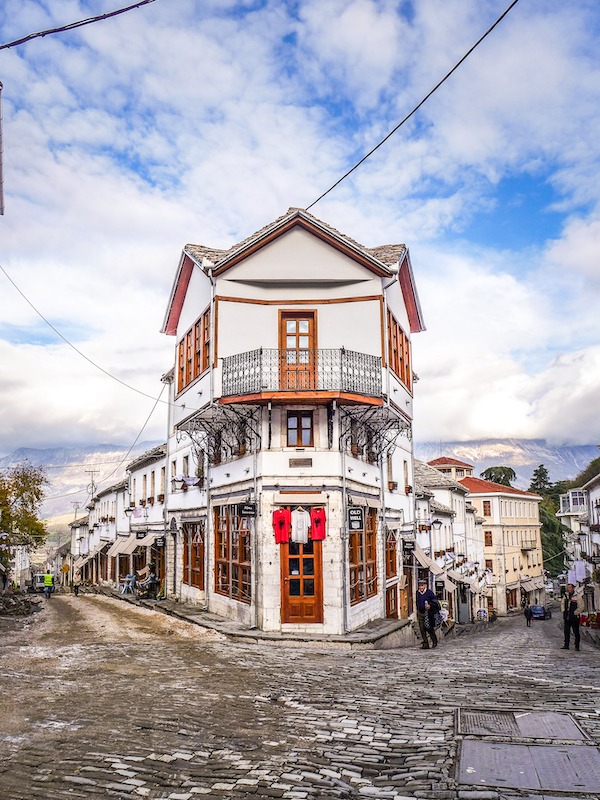 There is 2 parts of Gjirokaster, the new part and the old part. It is the old part which is super beautiful, the new one is quite boring, but more is open during low season and prices are a bit cheap as this is where more locals live. So the new part was not as quiet as the old one in November. However, we rented an apartment ni the old part and loved it.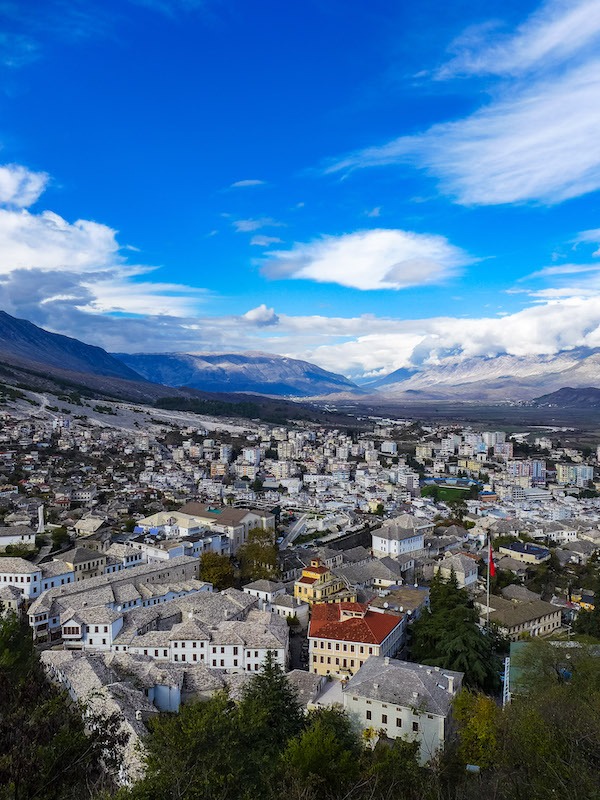 If you do stay in old town, be aware of the uphill hike from the bus station in the new part of town. We took a taxi up, which was worth it for sure. You don't want to drag any bags or carry your backpack up the cobbled streets to the old town. 
What to do in Gjirokaster
As Gjirokaster is small there is not loads to do, but enough for a few days. The most famous thing is of course just walking around the old town, which is full of small shops, restaurants, cafes etc. Some only open during high season though. There is also things in the nearby area to do, but for that you will need a car or take taxi, which we didn't. Gjirokaster can also be a day trip from Sarande, especially if you're by car.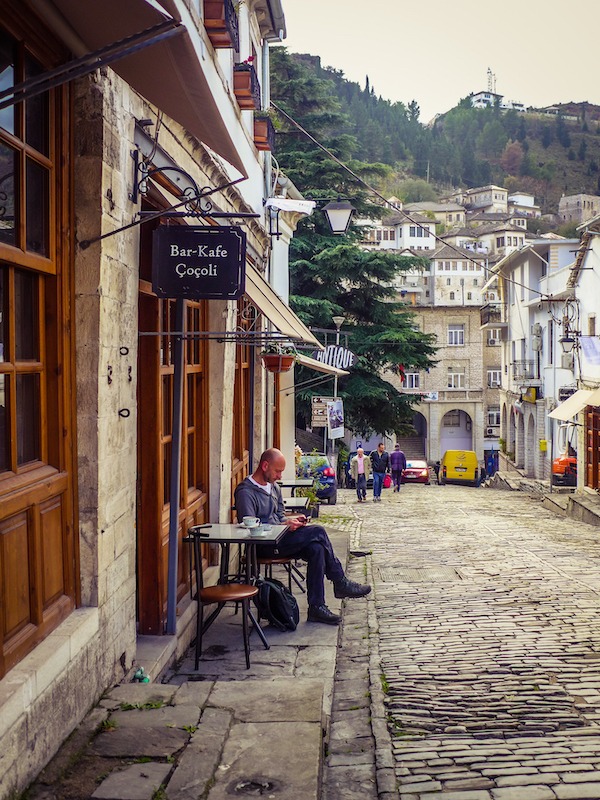 All places mentioned in this post can be found on our Albania travel map.
Walk around Gjirokaster old town
There is so much beautiful architecture to see in the old part of Gjirokaster, we walked around for ages, getting lost in small alleys and taking a million photos of all the beauty!
Gjirokaster Castle
The main attraction in Gjirokaster (except the old town itself) is the castle. We stayed just a 5 minute walk from the castle, but if you stay in the new part of town it's a bit of a hike as it's on the top of the mountain. Due to the location, the views are spectacular. 
This castle is very intact, with loads of parts inside the castle open and areas outside to roam around on. We spent a couple of hours here exploring.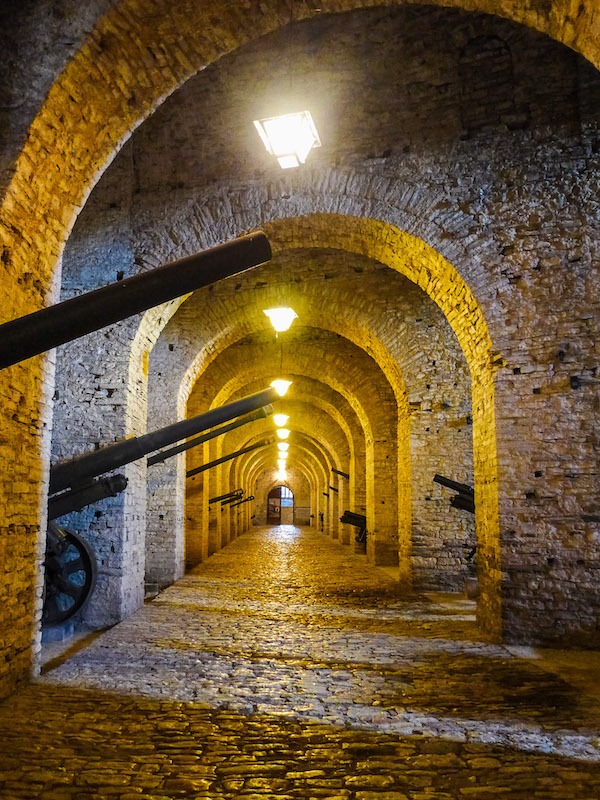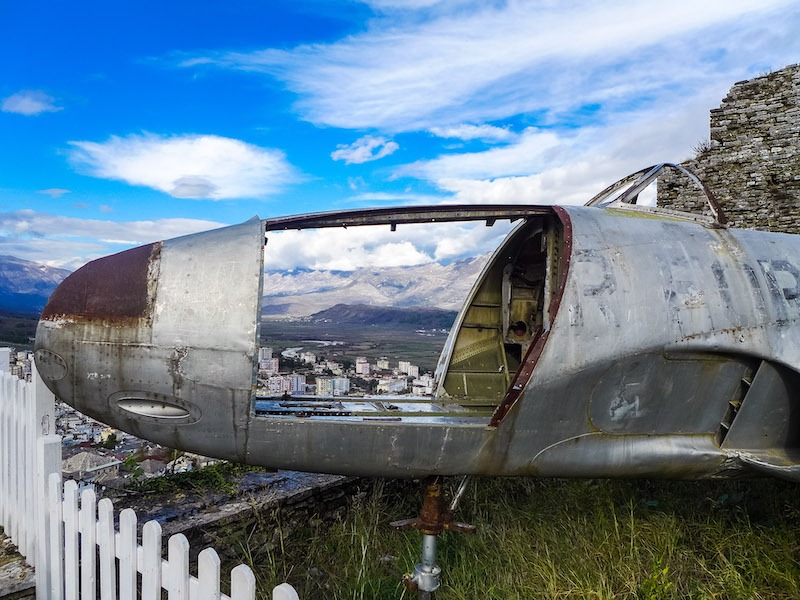 Best restaurang in Gjirokaster
Restorant Kufoi was truly a little gem we found. Super local place with a very friendly owner. He didn't speak much English, but enough for us to communicate. They served traditional Albanian food, and it was the best food we had during our entire trip in Albania. It was so tasty and super cheap. 
More Albania!
Make sure to see our Albania page with all our travel tips, travel map and all our blog posts about Albania.