Indonesia Travel Tips
Indonesia is a huge country made up of over 18 000 islands. To give you some perspective of how big this country is, these islands stretch across an area that is as big as Ireland to central Asia. This makes Indonesia an exciting country to travel in with endless islands to explore. On this page you can read all our Indonesia travel tips to make your trip great. For more tips and ideas, head to the bottom of this page, where all our blog posts about Indonesia are.
All regions in Indonesia, have their own culture, and many also their own languages. They're almost like their own little countries, as you get so many different experiences depending on where in Indonesia you go. The rainforest on Kalimantan, archipelagos in Papua and Maluku, see Komodo dragons on Komodo, huge metropolises on Java. Every region has a unique feel and nature to it.
Indonesia should definitely be on everyone's list to travel to. Most people settle for Bali and/or Lombok (mostly Gili islands), and are missing out on more authentic non touristy areas, which in our opinion, is way nicer to go to.
Indonesia Travel Map
Our top tips for restaurants, places of interest, hotels etc. are included in the map below.
There is loads of accommodation all over Indonesia. The easiest way to find the more unique places, at least outside cities, is on AirBnb. The prices vary quite a bit between regions, southern Bali can be quite expensive due to the many tourists visiting, while similar type of accommodation in non touristy areas of Indonesia is way cheaper.
In bigger cities and tourist areas it's very easy to find accommodation,with standards westerners are used to. While it can be trickier to find western standard accommodation in some areas. This is only in areas where not many tourist venture to, so for the most part, it's never an issue to find somewhere nice to stay.
You can find accommodation suited for all wallets, from local homestays to 5 star luxury hotels and resorts, and everything in between. In general it's very easy to find something that suits your budget and "taste".
In general, Indonesian food is amazing! All regions and cities have their own cuisine and speciality. For example in Bali you will find a lot of pork, but on Java this will be difficult. Instead you will find a lot of beef, which you won't see as much of on Bali. Whenever we go somewhere in Indonesia our Indonesian friends tell us what to eat in that place. Which makes travelling between different regions and Islands even more exciting, if you're into food, but who isn't?
Prices
So what about prices? In cities and tourist areas you can find it all, from cheap street food to super expensive high end restaurants. Don't be afraid to try Street food or local "warungs", this is where we always have our best and cheapest meals! In bigger cities you can also find all types of different Indonesian and Asian cuisine, and a lot of western cuisine. In smaller towns with less tourists you will probably only find local food and "warungs".
Food is extremely important in Indonesian culture and you will always find a place to find good food, and will never lack anywhere to eat or have to go hungry.
It's hard to write a general post about activities in Indonesia as it is so huge and there is loads to see and do. You can enjoy beach life on Bali (or most other island); Komodo dragons on Komodo; rain forest and orangutans on Kalimantan; surfing on Bali or Lombok; experience metropolis cities and skyscrapers in Jakarta; shop – in about every city; hike up volcano's; diving in Raja Ampat or Sulawesi; local villages on Sumba; beautiful nature on Sumatra. The options are endless in this vast and beautiful country!
For more specific tips, check out our blog posts about what to do in Jakarta and what to do in Yogyakarta.
Traveling to and from Indonesia is easy. You will most likely arrive by plane to any of the international airports, where most nationalities (not all nationalities – make sure to check your visa rules before going!) can get a tourist visa on arrival for 30 days, for free.
Domestic travel
Travelling within Indonesia have two sides, it can be super easy or it can be a bi***, it all depends on your mentality and budget.
By plane
If you can afford flying between places, this is as easy as any other country. There are many different domestic airlines to choose from, the biggest airline being Garuda Indonesia. Lion Air is also common. ALERT! please google the airline before you buy your ticket with them, as Indonesia is infamous for some airlines not being very safe. This only applies for budget airlines. Livia might be a bit sensitive, as she can be scared of flying and got scared by the UN security course to only fly with Garuda. So please do your own research and use your own judgement to make a decision.
By train
Java is the only island with a train network. This is a comfortable way of traveling on Java, and you get to see beautiful views. There are different types of trains, the one we use is the so called Executive trains which are very comfortable, it's a bit more expensive, but still cheaper than flying, especially if you count in airport transfers. Jakarta – Yogyakarta was about €20 per person (2018), and takes about 8 hours. But there is also a cheaper option, but we haven't tried that yet, same trip with the cheaper train should be about €11 (2018).
Executive class is the highest class, and usually have their own train with only executive class. On the other trains you can choose between Business and Economy.
By other means
If you travel by land in Indonesia, you need to have patience most of the time. You need time and to lower your standards. It can be miserable and wonderful at the same time, it all depends on your mood and what you're used to. If you're not used to driving in Indonesia – don't.. the traffic is crazy.
There are local ferries between many of the islands, these can be very crowded and quite uncomfortable, but a great choice if you're on a budget. Between tourist destinations you will be able to book faster more comfortable boats, or even a private boat. It's not extremely expensive, but it all depends on your budget. Just make sure to check that the boat you hop on doesn't stop in too many places, as sometimes the faster boat can be about the same price, but half the time.
We haven't tried going by bus yet, so we can't give any opinions on this.
If you have the time, do travel by land! There is no better way to meet people than this.
All our blog posts from Indonesia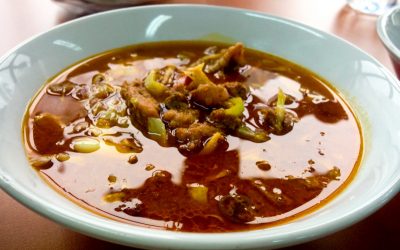 Trying to list top 5 best Indonesian food is not easy, and I realised that most of our favourites are Javanese dishes, but it makes sense, we have spent most of our time on Java when being in Indonesia, as most of our friends live there, and we absolutely love Java...
read more