We had some really amazing food in Yogyakarta, and will share them with you in this guide of where to eat in Yogyakarta. We also ate at some random street food stalls, which we cannot remember the name of. But they all had really good food. In general, I would say that street food in Yogyakarta is safe to eat. But follow your instinct, and the locals.
Travel Tip – Never walk past a bunch of people queuing up for street food. ALWAYS take a look at whats being cooked up, use your eyes and your nose. If  it looks good and smells good and 50 other people are ordering it and sat around eating it, it's probably going to be not only OK to eat, but one of the best dishes you'll experience on your travel.
There are a few dishes you should definitely try that are typical from Yogyakarta. One of them being Gudeg. Gudeg is a coconut milk based stew with Jackfruit in it. It also has palm sugar in it, and I find it a bit too sweet. It's hard to describe the taste of this, you will just need to try it! You will find places that serves Gudeg all of the city, so just pick one.
All the places below are listed on our Indonesia map.
Waroeng SS
On the South side of Yogya we found Waroeng SS Special Sambal, purely by chance as it was just round the corner from our hotel. You can choose to sit around a table or down on the floor. If you choose the raised floor, make sure to take off your shoes. Service is fast, so grab an ice-tea straight away and get comfy with the menu.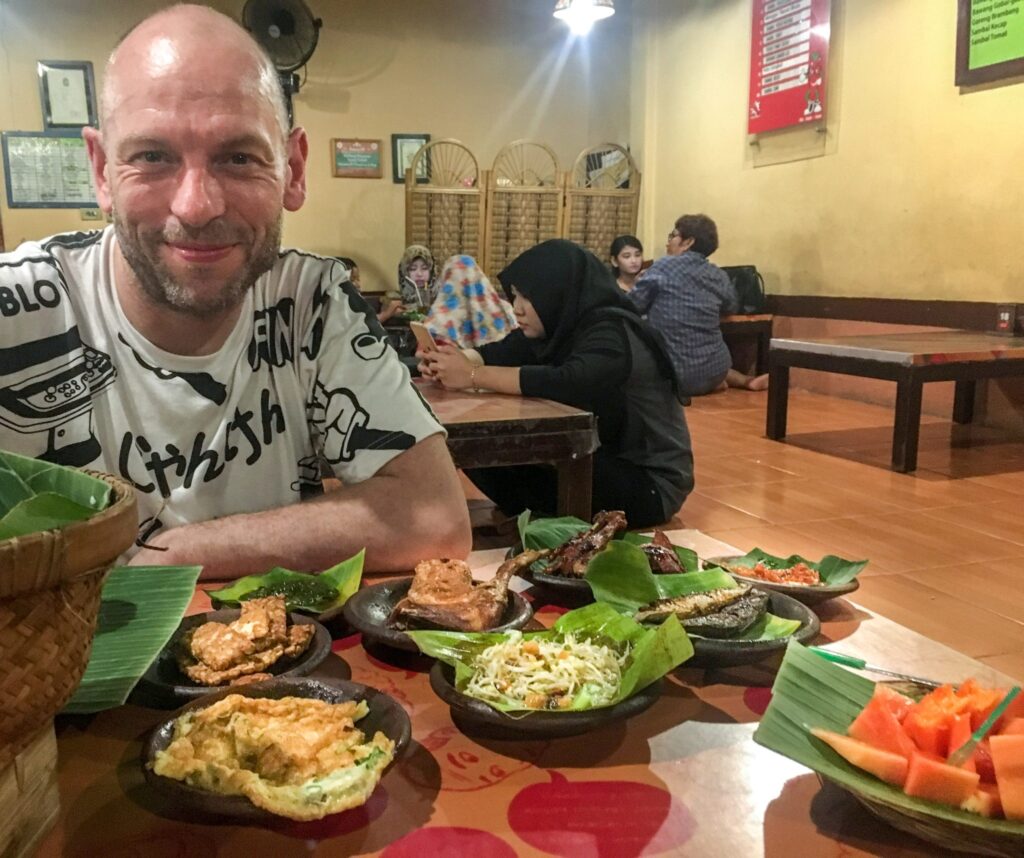 There is a HUGE range of Sambals here (33 in all I think). The menu is, traditional Indonesian, which is a bit like a tapas menu, just lots of stuff either grilled, fried or steamed. The staff speak great English and can help you with what you order. We found that ordering about 4 sambals and another 8 main dishes with a portion of steamed rice would be enough (well for us). But you can just keep ordering if you are still hungry for more.
This place is renowned for their Special Sambals, so be adventurous. There are hundreds if not thousands of sambal recipes in Indonesia, some are famous in their own right like colo colo (pronounced Chollo Chollo), from Maluku, which is intense Sweet Soy sauce called Ketjap with fresh Indonesian chilies, traditionally served with fish.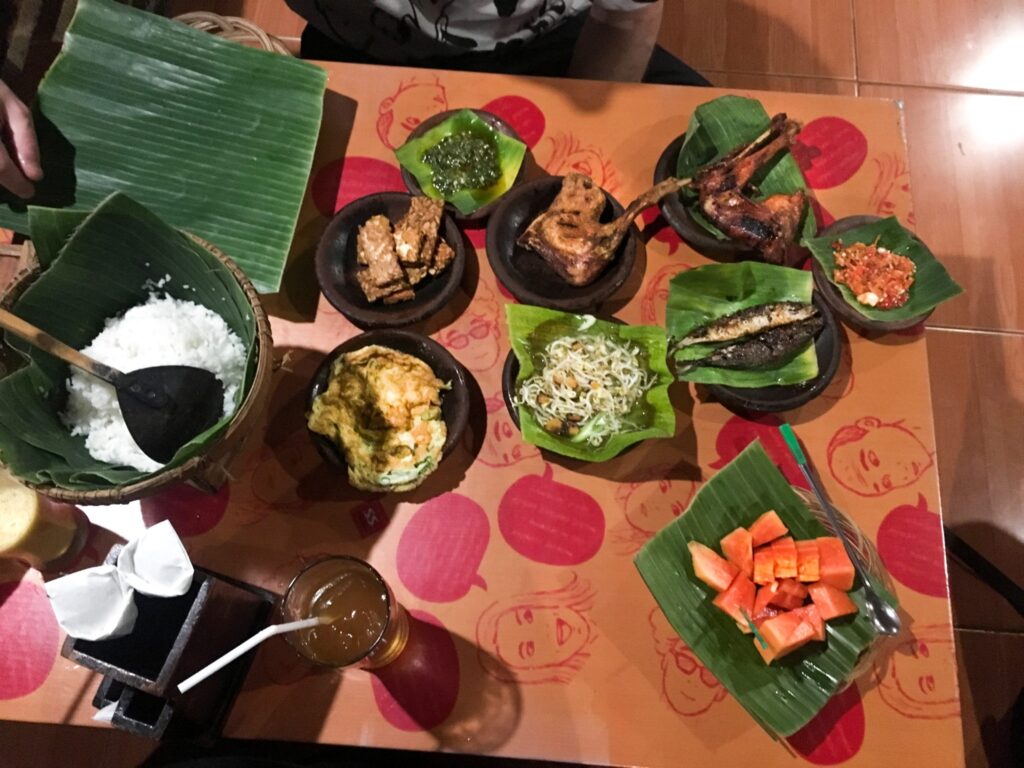 Read more about sambals and Indonesian food in the blog post "Best Indonesian food".
Sate Taichan Senayan Yogya
Just down the road from Waroeng SS is Sate Taichan Senayan Yogya set up on the sidewalk with two sate grills and about 10 staff working service, delivering food and drinks. It cost 18k IDR or about €1 for 10 Sate Sticks and Thai Tea for 5k IDR or about €0.30.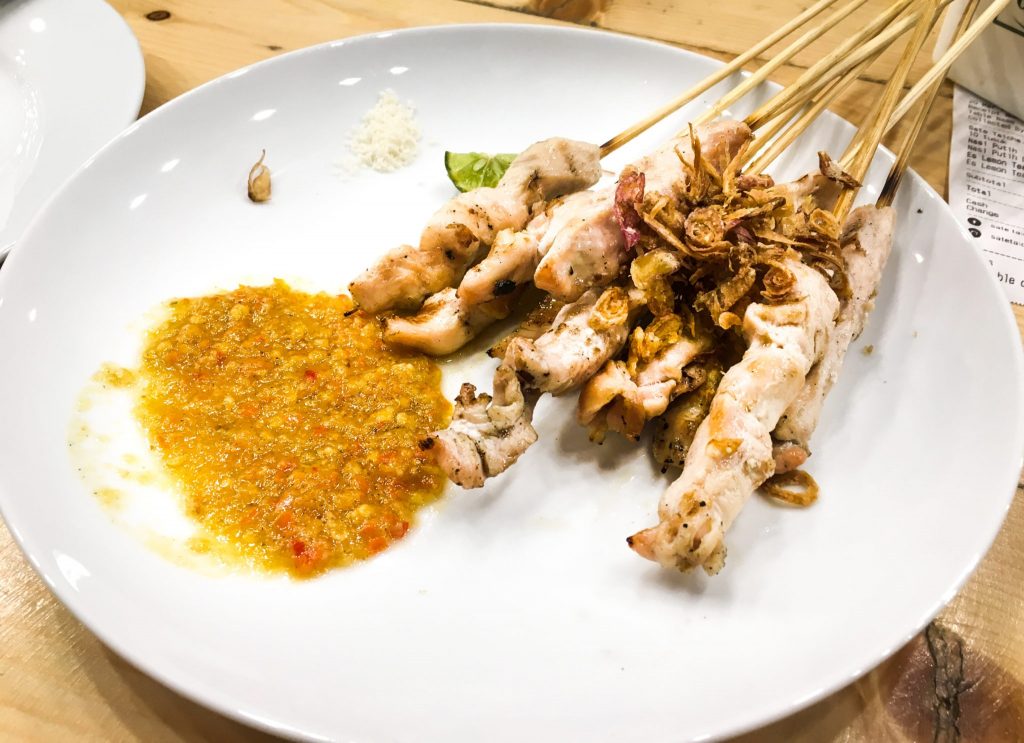 We also found this place by accident. When walking around we saw all these locals queuing up, and decided we had to check it out. We were the only non Indonesians, and got many smiles when we ordered in broken Bahasa mixed with English and sat down. The sates was amazing, by far the best chicken sates either of us has had in Indonesia so far.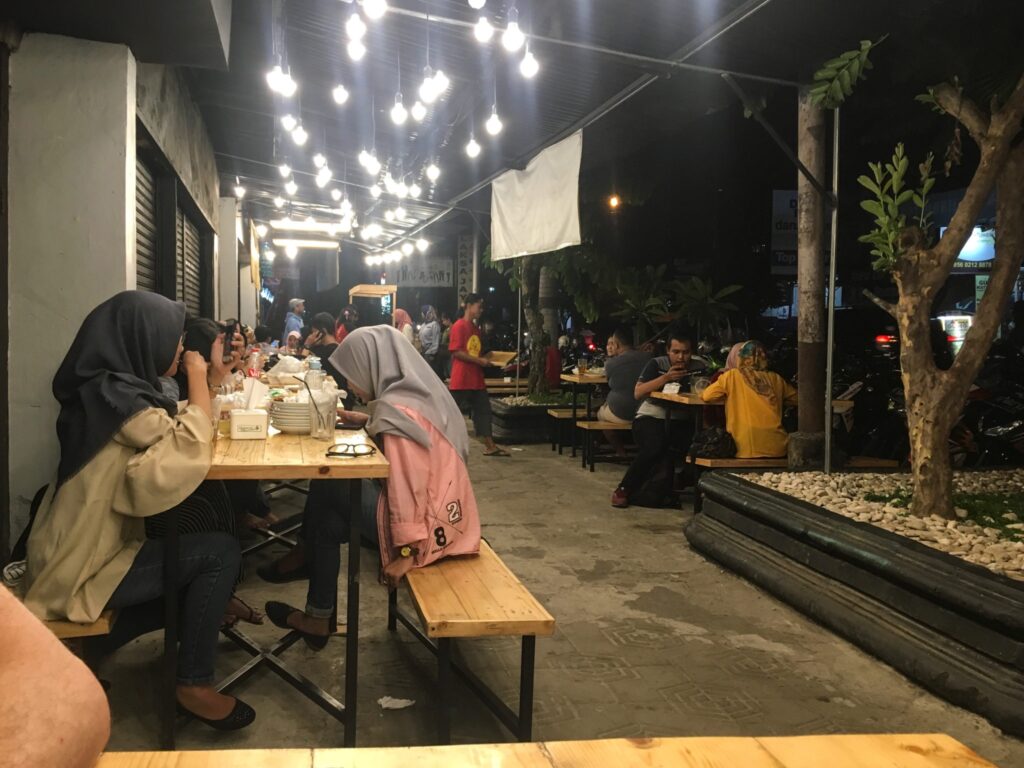 I have no clue if this was a pop up thing or if it's always there, but if you walk pass it make sure to stop for some sates. We added where it is on our Indonesia map.
More Indonesia!
Make sure to see our Indonesia page with tips about travel in Indonesia, map and all our blog posts about Indonesia.