We spent a week in Tirana, getting there I was quite run down and exhausted, realising I had a travel burn out so we decided to not do too much and try to live more "normal" life for a few days. We enjoyed taking walks, going to the cinema, trying new food, just taking it easy at home doing nothing, cooking etc. Sometimes that's all you want while traveling, normal life.
However, as we both were very curious about Tirana we also did some exploring, of course. Tirana is a very exciting city, completely different than what we expected, especially when reading other travel blogs. It felt modern and hipp with loads of cool coffee places, restaurants, shops and bars, a very young and vibrant city.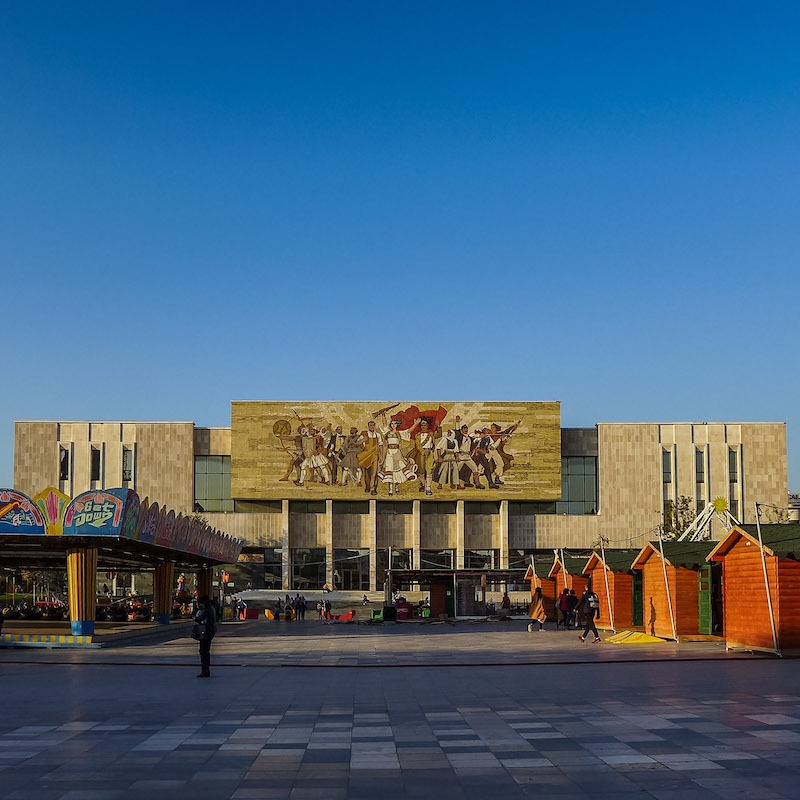 All places mentioned in this post can be found on our Albania travel map.
What to do in Tirana
Tirana is not your typical tourist destination, but that's what made it very exciting to visit. There was a lot to see and do, even the more touristy things weren't very touristy. Here are some of our tips of things to do in Tirana, Albania.
Walk Around for Exciting Monuments and Public Art
If you are interested in public art and architecture, Tirana is definitely something for you. It's a very exciting mix between old communist buildings and newer architecture. It's also small enough to be able to walk around easily.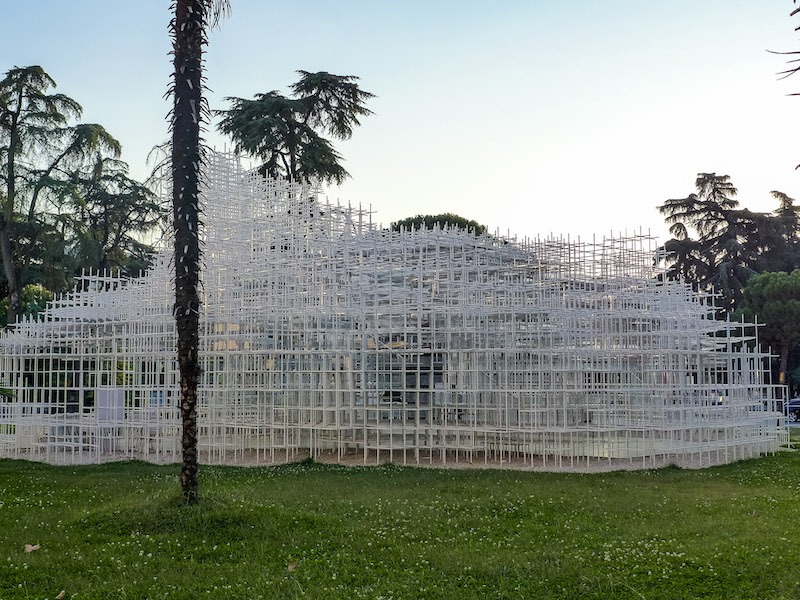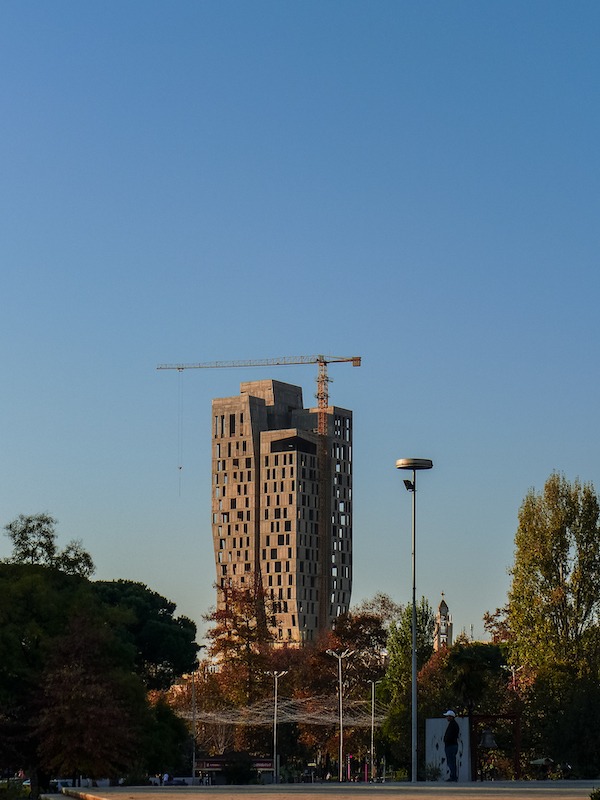 Some mer specific monuments are:
A piece of the Berlin wall at the Postbllok Checkpoint in central Albania
Bunkers scattered around, most intact you can find at Postbllok Checkpoint (same as Berlin wall)
Maybe the most famous building in Tirana, the Pyramid of Tirana. This is a huge concrete pyramid in the middle of the city. It opened up as an Enver Hoxha museum in the 80s, after the fall of communism in Alabania it lost its purpose and has been used for a number of things, cultural center, nightclub etc. Today it's abandoned with the people divided whether or not to tear it down or not. But it still stands, for now, and should definitely be visited on a trip to Tirana. When we were there you could also climb to the top of it for a great view of Tirana, however, it was quite tricky and only Sam was able to climb it.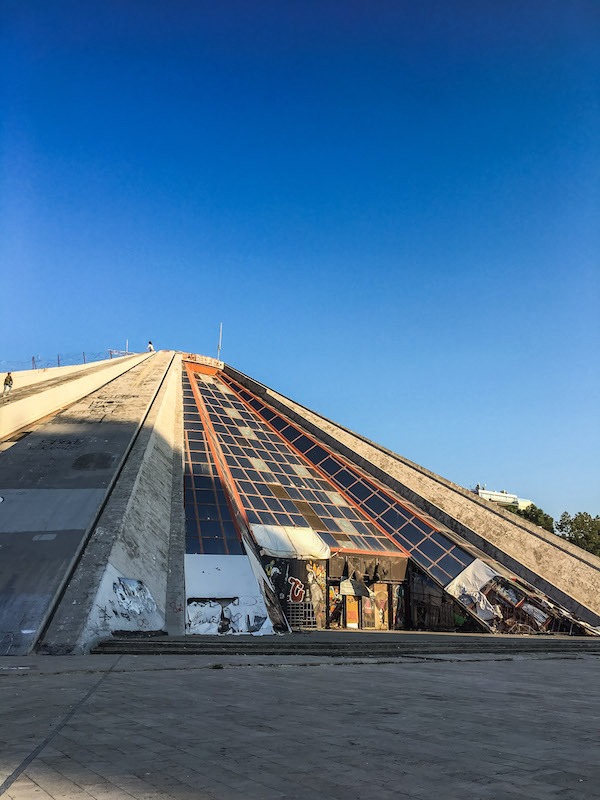 The coloured buildings
Another famous thing for Tirana is its colourful buildings scattered around the city. Trying to get rid of the communist feel of Tirana, the previous mayor decided to paint buildings in different colours.
Walk the streets the river for some of them that's more condensed, but they are all over the city.
Museums
Both of us are quite interested in communism and its history. Maybe especially in Albania, as it was such a closed country for so long. To get a small insight into how life might have looked during that time there's some interesting museums worth visiting. We went to House of Leaves and Bunk'Art 2:
House of Leaves
This museum is housed in the old HQ of the surveillance division of the government. Which in itself made it interesting to visit. The exhibition is very text heavy, and about how people were under surveillance during this time. If you're interested in this part of the history, it's definitely worth a visit.
Bunk'Art 2
There is a Bunk'Art 1 and Bunk'Art 2, we only made it to Bunk'Art 2 as the other one is situated outside of the city. However, it's high on the list for next time I visit Tirana. Bunk'Art 2 is house inside a nuclear bunker in the center of the city and part art gallery and part museum. The museum is about the communist time of Albania and Tirana, with a more wide focus than house of Leaves. It's also very text heavy, but super interesting! If you only have time for 1 museum while in Tirana, this is then you should visit.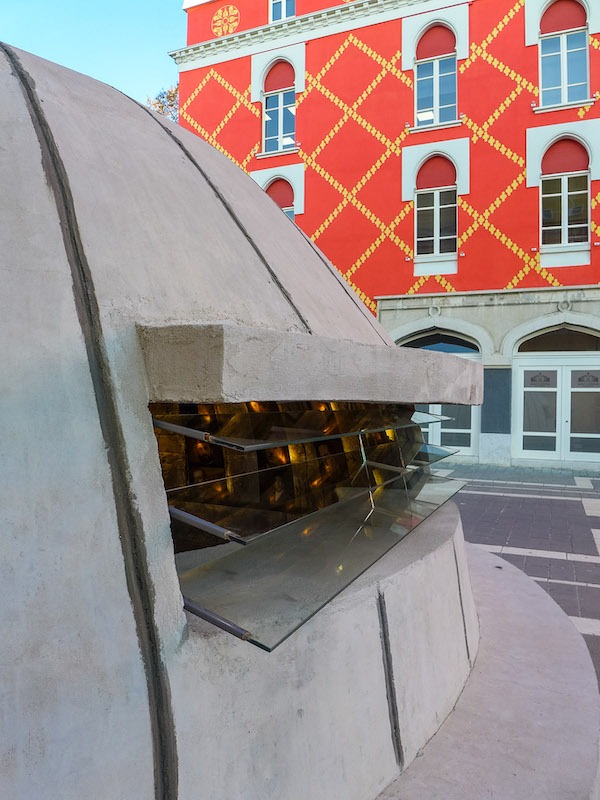 Walk around Blloku
This was the old elite area of Tirana, today it's a great place to walk around as it's filled with restaurants, cafes, shops etc.
Walk around the Grand Park of Tirana
This is a big park in the south parts of the city. If you want to live local life, this is where you should head on a sunny day. There's some cafes along the lake, and loads of walking routes. You can easily spend a few hours here. We took the route which takes all around the lake, and honestly, the side towards the city is much nicer than the part on the other side, as it's next to a highway and not as green. So keep to the area towards the city for the best parts of the park.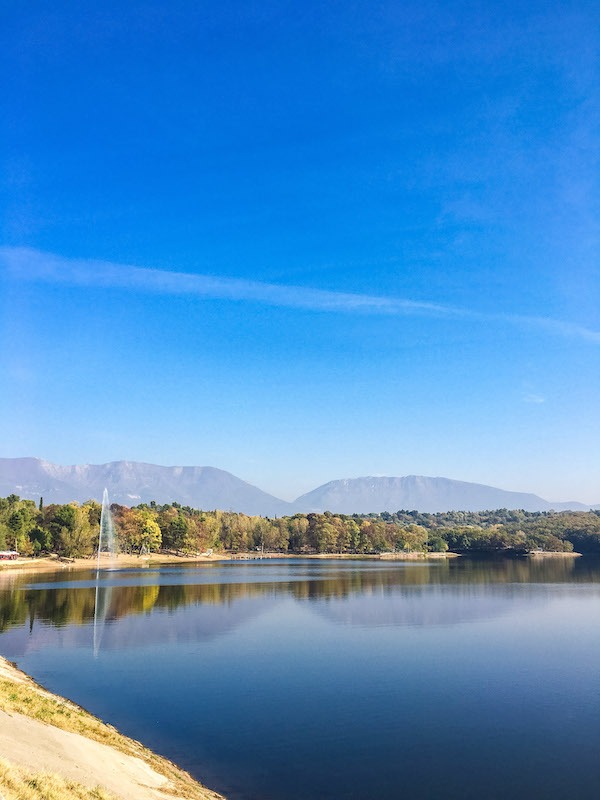 Places to eat in Tirana
As we lived normal life in Tirana we didn't eat out as much as we usually do. But there's loads of good food in the city and we will mention two places here. Other than these two places we ate pizza and just fell into small restaurants. It's not difficult to find good food in Tirana.
Restaurant Piceri Era in Blloku
This place was a great little find. We went here on a Sunday for lunch and was lucky we didn't have to queue, after we arrived there was a constant queue to get a table. They serve great traditional Albanian food, for a very good price.
Mullixhiu
This is probably the restaurant you find most on google when googling places to eat in Tirana. However, want to mention it here. They serve a modern take on traditional Albanian food. In the evenings they have a tasting menu for a good price. I enjoyed this restaurant, however, Sam did not. And yes, there was things that wasn't up to standard, especially the service which was quite bad unfortunately. But I would still say it's worth a visit when in Tirana. But if you're on a super low budget skip this place as there's better cheaper options. This restaurant is more an experience.
Coffee in Tirana
There's loads and loads of coffee shops around Tirana. But we want to mention two places here which was quite unique.
E7E
This is actually a book shop, but there's also a small cafe area inside it. Which makes this a super nice place to sit and sip on a coffee amongst the books.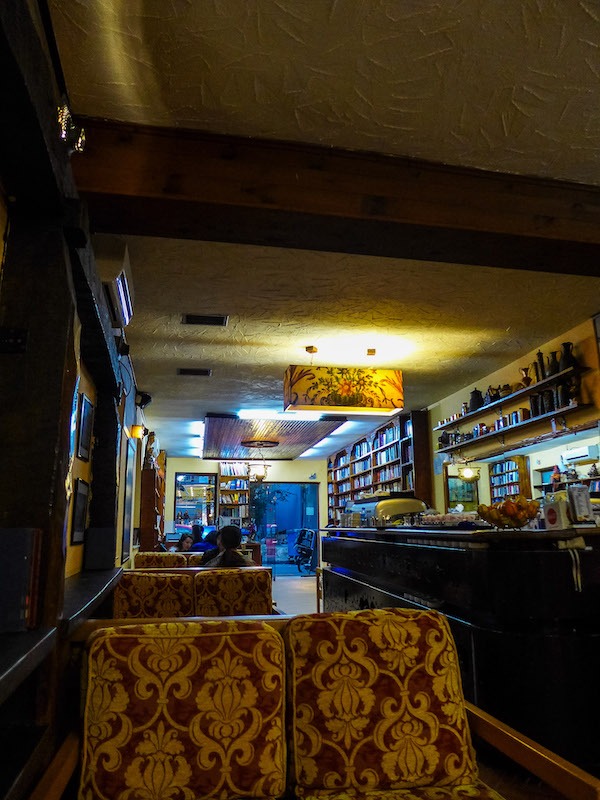 Komiteti – Kafe Muzeum
This place should be visited for the ambience. We call it Communist kitsch. This is actually a bar, rather than cafe, but they do serve coffee too. It's a great venue with lots of memorabilia and very unique design.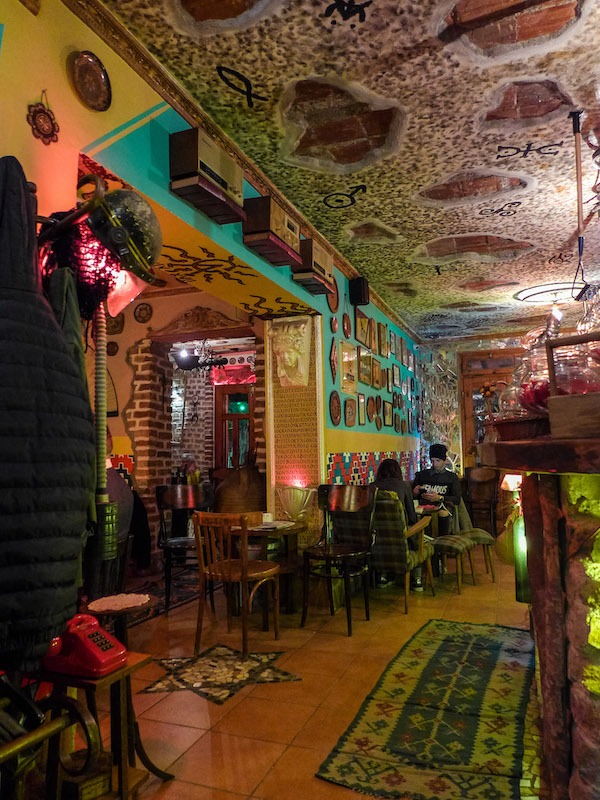 More Albania!
Make sure to see our Albania page with all our travel tips, travel map and all our blog posts about Albania.