One of our most googled items during our travels through balkans was how to cross land borders between countries. Most of them were pretty straight forward, especially since we were on busses who knew which borders are open for foreigners etc. However, at one point we had to cross the border by foot, as there were no bus services between our to destinations. This was the border between Albania and North Macedonia. As there wasn't a lot of updated information around we thought we'd share our story of how to cross the land border between Albania and North Macedonia by foot.
Our last stop in Albania was Korçë, and from there we wanted to go to Ohrid in North Macedonia. There are different borders to cross between these two countries, but the one that made most sense for us was the Tushemisht – St. Naum border (you can see it marked on our Albania travel map and North Macedonia travel map). We quickly realized we had to do this in steps, and also cross this border by foot.
How to cross the land border between Albania and North Macedonia by foot
Step 1: Korçë to Pogradec
From Korçë we jumped on a bus to the small town Pogradec. Which is also a quite popular place to stop for a few days, as its just on Lake Ohrid, which is shared between North Macedonia and Albania. But we had decided to head straight to Ohrid. The busride was about an hour and only cost us 150 lek each and there was a bus every hour, so this part was really easy.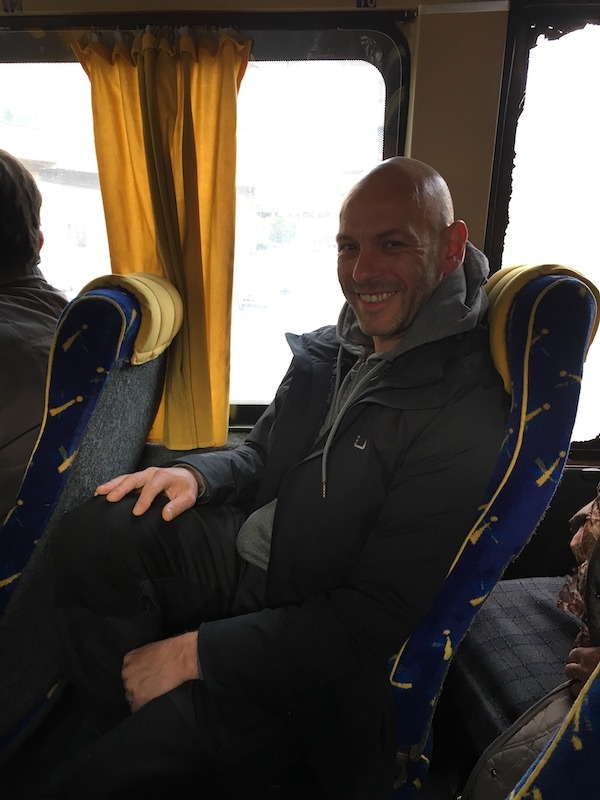 Step 2: Pogradec to Tushemisht (Albanian border control)
From Pogradec to the actual border we had no choice than to take a taxi. You could walk, but it is quite far from the town where the bus stops and we didn't find any busses going that way. There is probably some local bus going that way, but since the 15-20 minute taxi is only 700 lek it was just easier to catch one from the bus stop in Pogradec. Pogradec is also where you want to get rid of all your Lek (but save enough to pay the taxi!!) since there's nothing by the border control.
Step 3: Tushemisht border control (leaving Albania)
Arriving at the border control there was a few cars asking if we wanted a taxi somewhere, but since it would be quite expensive to go all the way to Ohrid from there we had already decided to walk over the border and catch a bus on the other side.
The Albanian border control here is situated right on the lake, so you have beautiful views from here. Normally  that wouldn't really have mattered, but when we arrived the computers were all down so we had to wait for 30 minutes or so before we could cross the border and leave Albania.
The crossing itself was really easy once the computers were running, they even had a walking lane in addition to the car lanes. It was also very quick. I'm not sure about the opening times, but during day time you won't have any issues, and if you cross by foot you will want to do this at day time since it is quite a lot of walking included.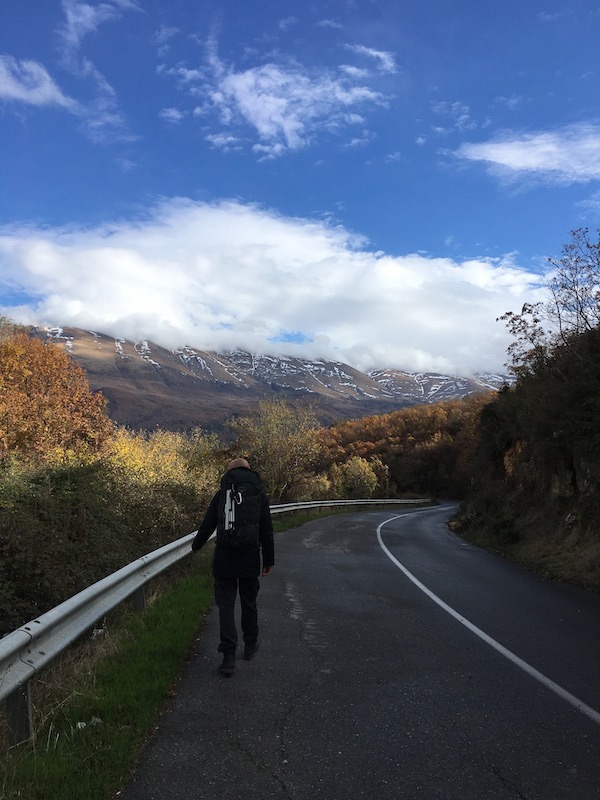 Step 4:  St. Naum border control (entering North Macedonia)
This was the only border  where the two border controls were quite far from each other, we had to walk for about 10-15 minutes along a road before even coming to the North Macedonian border control. However, the walk was nice and we were lucky with the sun.
This border control was probably the hardest one of all borders we crossed in Balkans. First we had to queue up with the cars as there was no walking lane, and even if it just was 2 cars in front of us it took quite some time as they checked papers very, very throughly.
After having our passports checked we had to walk to 2 other people who asked us lots of questions. Or actually they asked Sam lots of questions, they just looked at my passport and said "ah Swedish, welcome". However, Sam, not sure if it was because he's Brittish, got loads of questions, such as "Why are you here?", "How long did you spend in Albania?", "How long will you spend in North Macedonia?", "Where are you staying in North Macedonia?", "Are you carrying any drugs with you?" etc. etc. It was quite a difference between how they welcomed me and Sam. But after all the questions we were allowed to enter North Macedonia.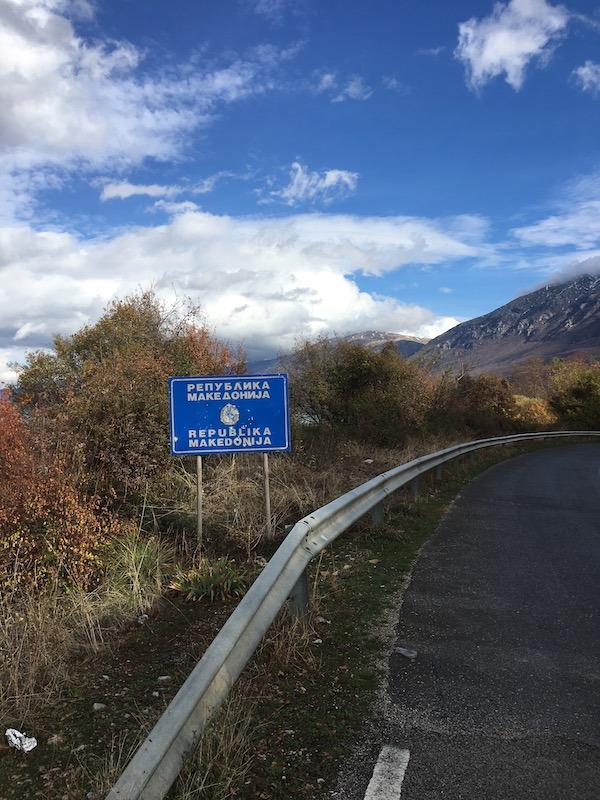 Step 5: Walking from the border to St. Naum
This bit was quite a miss on our part, we hadn't really realized how far it was to walk from the border control to the nearest bus station in St. Naum. There is also some military zones that you're not allowed to enter. Our biggest tip for this part is to have downloaded any type of map, as you most likely wont have internet when you've enterd North Macedonia and it's not just to follow the road.
To start with you will follow the asphalt road leading from the border control, however, at one point you will want to head into a little path on the left (there is a small signpost for a church '✝') through the forest/nature area as this is much closer than following the road the whole way. This little path is not really marked except for the little sign post, so this is where you will need your downloaded maps. There is also military zones in this area which you need to stay clear from.
After some discussions we did find the path. Sam has a backpack so he had no issues walking here, however, my bag is a rolling bag.. this is an issue on this road as its just a path with grass and mud. I can tranform my bag into a backpack, but it's too heavy for me… Anyway, in the end we found the way and got to St. Naum after a 30ish minute walk.
If you don't want to carry all your luggae it might be worth taking a taxi or cross the border on the north part of Lake Ohrid where you can go by bus.
Step 6: St. Naum to Ohrid
St. Naum is supposed to be a beautiful place for a stop. However, we skipped it as we didn't want to carry around our bags anylonger so started walking towards the bus station, which is situated just outside the entrence to the St. Naum area.
The bus takes about 1 hour and should cost 100 denar per person. But, if an older man stops in a car and asks if you want to ride with him instead, take the oppotrunity. Not sure if more than one man does this now, but the one we went with is a retired proffessor and drives tourists between Ohrid and St. Naum for the same price as the bus, as a way to get a little bit more money. I had actually read about him on a blog before going, otherwise I'm not sure if I would have taken the offer. But we did, which was great – as it didn't cost us more and was much quicker than the bus. He dropped us off close to our AirBnb in Ohrid, I think you can ask him to drop you anywhere as long as it's not a detour.