Our last stop in Albania was Korçë, a small city known for its BBQ and old bazaar area. Korçë is high up which meant it was much colder than other areas of Albania we were in. If you travel by bus in Albania, as we did, don't miss the bus between Gjirokaster and Korçë, it was a bit crazy sometimes, but with stunning views.
What to do in Korçë
It's a cute small city with an old bazaar area and some beautiful architecture. There's also a lot of places to visit in the surrounding area – like small mountain villages and hiking etc. Unfortunately I fell ill during our 3 nights in Korçë so we didn't do as much exploring as we planned on.
Korca Old Bazaar
This is probably the most famous area of Korçë, it's the old part of the city full with cafes, restaurants and small shops. It's a bit more expensive to eat here, but as the city is small, you can grab a coffee on the square and then eat somewhere else.
Do as the locals and grab a coffee on the square on a weekend. We were there in November, but everyone still sat outside in the sun, it was lovely.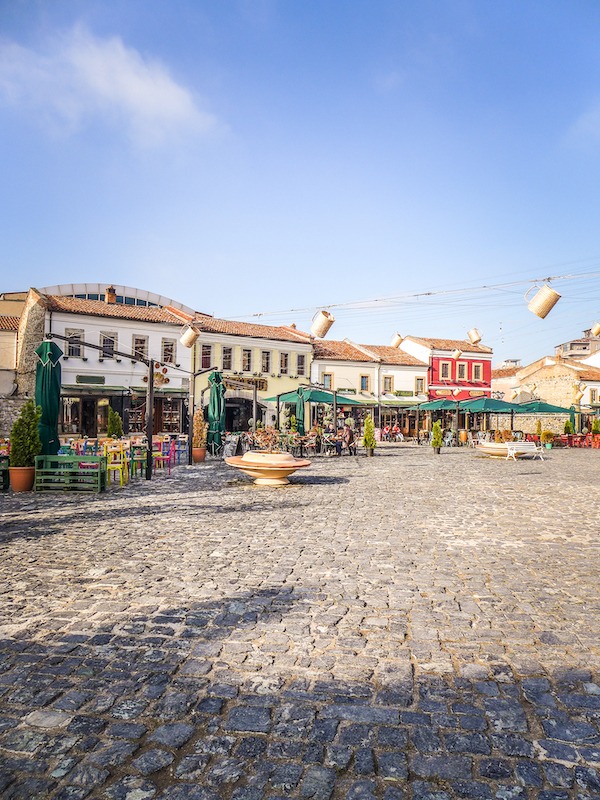 Walk around to see architecture
The old bazaar and the other parts of the city center looks very different. The old bazaar is renewed and colourful, while other parts are much more rundown and beautiful in other ways. Make sure to walk around to take it all in and stop for a coffee from time to time.
Go to nearby villages
Unfortunately we didn't do this, but it something we planned on doing so I will still add it here as something to do. The area around Korçë is beautiful, up in the mountains and there are lots of small villages and other nature areas to visit.
Where to eat in Korçë
We didn't find too many restaurants for some reason, or we didn't know where to look maybe. However, we did find a great BBQ restaurant which we went to twice: Zgara Korcare Grill. It's situated at the beginning of the walking street (if you come from the center) – and it's an amazing grill restaurant with really good prices. It doesn't look that great form the outside, and only has a few tables, but definitely worth a visit!
More Albania!
Make sure to see our Albania page with all our travel tips, travel map and all our blog posts about Albania.