Shkodër was our first stop in Albania. It's located in the northern part of the country, close to the border of Montenegro. We spent a couple of relaxing days in Shkodër, not doing too much as I was a bit sick during our time there. However, we did go to a few places that are definitely worth visiting if you're ever in Shkodër. This is our guide of what to do in Shkodër. All places mentioned below are added to our Albania travel map.
Shkodër is a small, relaxed city. However, it was not our favourite stop in Albania. It seemed a little bit harder than other cities we went to. But we still enjoyed our time in Shkodër and it's definitely worth a stop if you're on a balkan tour.
What to do in Shkodër
Rruga Kolë Idromeno
Rruga Kolë Idromeno is a pedestrian street in the center or the city, there's many cafes, bars, restaurants and shops around. It's a very nice little stroll or place to grab a coffee to do some people watching.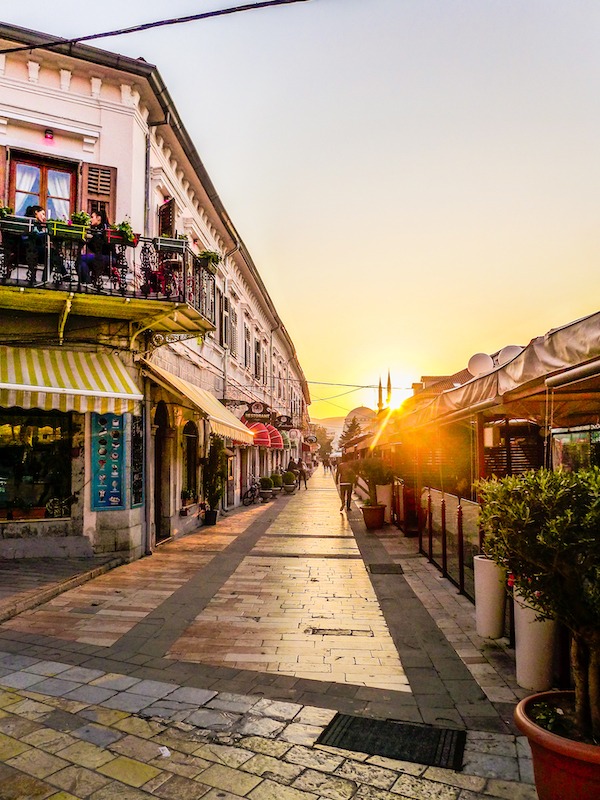 Visit the market
There's also a big market, might be more than on market that goes together. Just off the big round about along the street and on the alleys around there's loads of people selling their products. There's also a part with second had clothes. We enjoyed walking around seeing what everyone was selling, as we were the only tourists in town people also enjoyed talking to us and giving us free samples. All products are fresh and the people selling them is also the ones growing them at their farms.
Abandoned train station
This is a bit of an odd tip to give perhaps, but we love abandoned places and this one did not disappoint. The train station itself is locked up, but you can still peek through the windows. But on the tracks there's abandoned trains full of graffiti. It's a great photo opp, especially during a sunny afternoon when the area seems to glow in golden light.
It's a bit of a walk from the center, but as Shkodër is small, it wasn't bad. You will go through some rather odd areas with very run down or abandoned houses.
Do not go there by night as I'm not sure how safe it is. People live in these trains at night, and it's also a spot to come and to illegal things or hang out. Even at day time there was a group of young guys enjoying som chilled illegal activities, and they didn't seem thrilled with us taking photos around there. So we just made sure they understood they were never in the picture.
Rozafa Castle
The Rozafa Castle just outside Shkodër is the most intact forts we visited in Balkans. It has beautiful views over rivers, the lake and the surrounding nature. Most other forts we visited only had the walls still standing, this one actually had some rooms left as well. You can go down a hole and enter a few rooms underground, which was quite cool. It's also huge so take some time to explore, sit down and watch the views in different directions, and do like many other Albanians and us were doing, enjoy a pick-nick.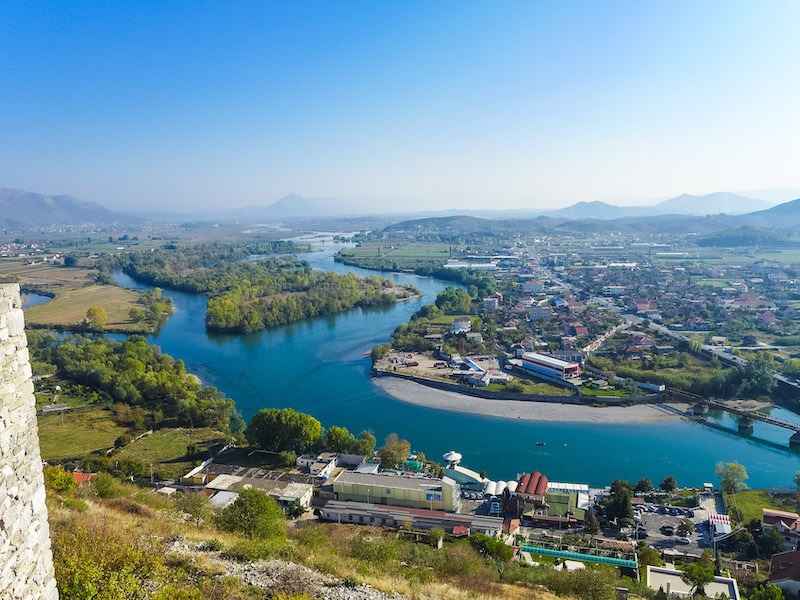 How to get to Rozafa castle
We borrowed bikes from our hotel to get to Rozafa castle, the way there we biked on the big street, which I found quite scary as there was a lot of traffic and people drive a bit crazy sometimes. However, on the way back we went on the backroad without any traffic, through some villages.
It's a bit far to walk here, but if you can't get ahold of a bike there are busses stopping just down the castle on the big road out of Shkodër. It is a bit of a hike uphill after that.
More Albania!
Make sure to see our Albania page with all our travel tips, travel map and all our blog posts about Albania.