Mostar, the city with the famous bridge. Neither of us were too impressed byt this city after travelling from the North of Bosnia and Hercegovina. It is a small city catered to tourists, probably the only place in Bosnia that is, at least where we went. Two nights is definitely more than enough. Our favourite things about Mostar was when we left the old city and all the tourists.
All places are added to our Bosnia-Hercegovina travel map.
What to Do in Mostar
Sniper Tower
This was one of our highlights in Mostar, the sniper tower. This old bank building was used as a sniper tower during the war. Now it is an abandoned building, located in the new part of the city full with beautiful graffiti. You are not allowed to enter the building, but it is easy to climb in at the back of the building to explore more of the graffiti. We did not do this, as we don't know how safe it is. You can get a local unofficial guide to show you around, which we would suggest just to be on the safe side. Do a little google about it to find the best options for you. But it is also perfectly fine to just walk around on the outside of it and you get to see loads of graffiti that way too.
Mostar Bridge
Mostar bridge is beautiful but a bit underwhelming. There is also huge crowds, even at low season where we were there. We were lucky enough the get the bridge almost by ourselves in the evening as it was raining quite heavily. Mostar bridge is not a reason to go to Bosnia, there are plenty of way way nicer places around this beautiful country which we recommend much more.
Head to viewpoint by the river, where you get a really nice view of the bridge and not so many people. You will see it from the bridge, so just take a short walk there from the bridge.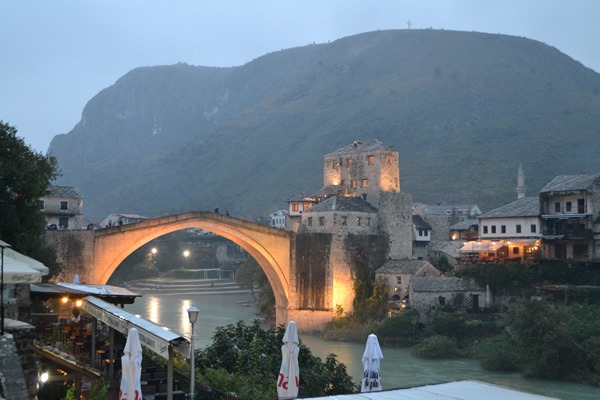 Old Town of Mostar
Old town, or Stari Grad, is pretty, but it is super touristy. Something we were not used to traveling through Bosnia before hitting Mostar. That takes away a lot of the beauty we think. It must have been absolutely stunning 50 years ago or so without all the tourists shops and crowds. If you are in Mostar, do take a walk around old town, but make sure to see other parts of the city too. Which takes me to the next point.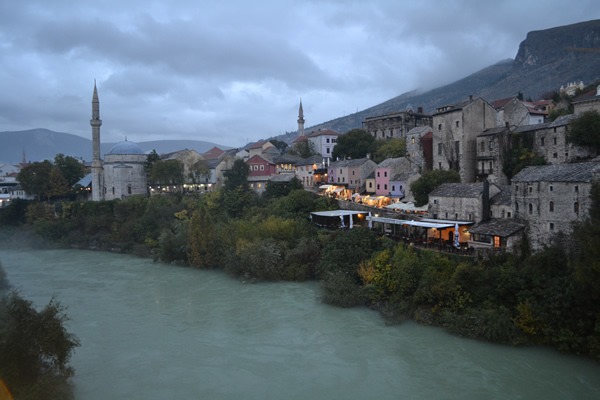 Walk Outside the Old Town
Make sure to take a walk in new parts of Mostar as well. Where real life it happening. Try some of the coffee places that you'll find everywhere, look at the architecture and ruined buildings. Just enjoy the local life in Mostar.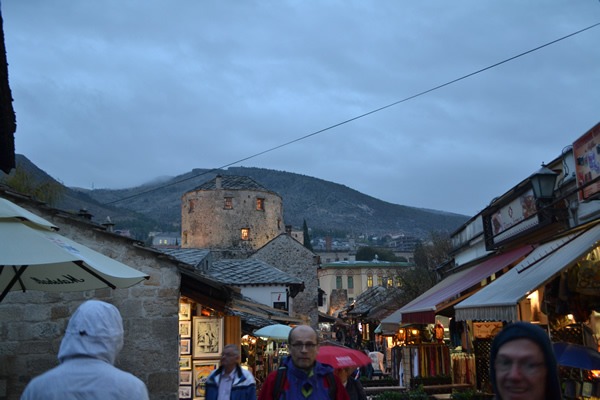 Where to Eat in Mostar
Irma Grill
The mixed grill at Irma is out of this world! It is the best mixed grill we had in Bosnia also with grilled vegetables, which was a first for us. Just know that it is HUGE – the small one is more than enough to share. Even if the price might seem a bit high for mixed grill (compared to other places in Bosnia), it is very well priced for the amount of food you get! We went here both nights we stayed in Mostar.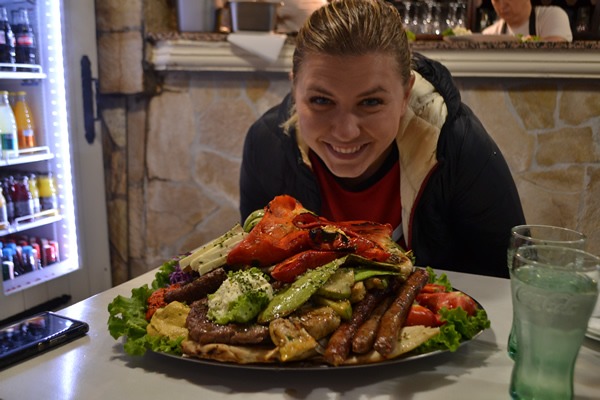 Behar
Local place in old town of Mostar. Food is a bit cheaper than other places around.
More Bosnia and Herzegovina!
Make sure to see our Bosnia and Herzegovina page with all our travel tips, travel map and all our blog posts about Bosnia and Herzegovina.