Both of us absolutely loved the train ride, a chance to relax for a few hours and enjoy the beautiful views outside the window. This is our experience of going from Jakarta to Yogyakarta by train.
Distance: 530km
Time: 8h 40min
Cost: €25 (Executive class with air-con)
Beware – Different trains leave from different stations, this was our experience with the Executive class train travelling from Jakarta Gambir to Yogyakarta Tugu by train.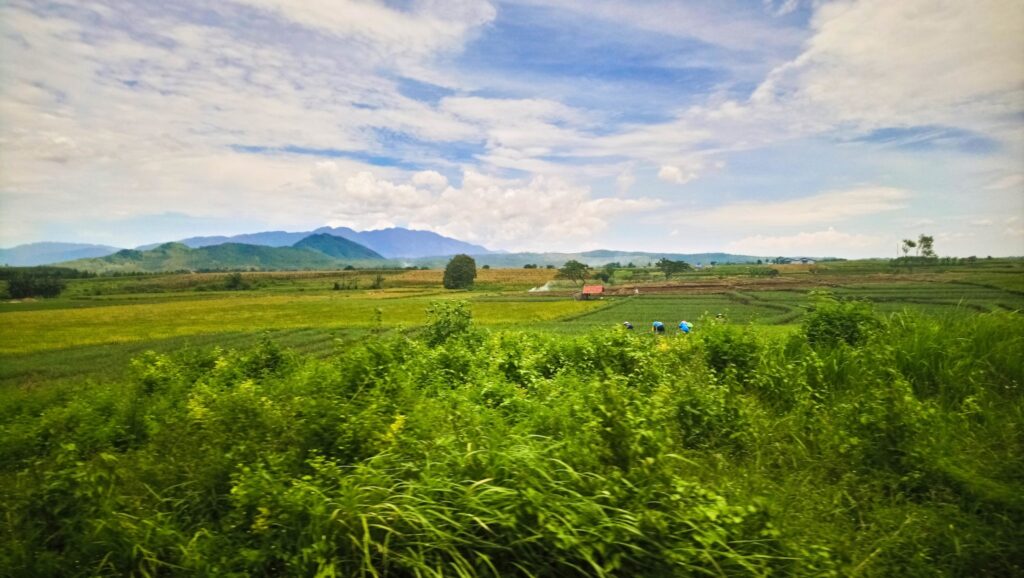 Buy your Tickets
You can buy a train ticket at Gambir Station (best to buy at least a day in advance). OK don't be scared. There's a bunch of people sitting around waiting for a ticket window… completely ignore that queue. That is for people who wish to buy tickets at a discount (service men/pensioners etc). Turn around and look behind you, there's an air conditioned office with 'Service Center' written above it, inside will be two nice ladies who will sell you your train tickets and tell you what you have to do. They take Cash or Credit Cards and don't charge anymore than the normal ticket price, and you will need your passport as identification.
Once you have your ticket you must 'Check-in', which you can do from 24 hours before you depart until 2 hours before departure. There was a machine where you just show it the bar code and it confirms your seat. After that, we headed back to town to pack for the early start the next day.
The Journey
We booked a blue-bird taxi via the app to collect us at 6am, even though the journey was 10 minutes from our apartment, this is Jakarta and traffic always has the potential to mess with you. So make sure to plan in sufficient time to get to the train station.
When we arrived at the train station we first grabbed a few supplies, coffee, cakes, ice-tea. Then showed our tickets and passports at the gate and headed upstairs to the platform. We found our seats very easily, nice wide, reclining and it's all air-cooled. It's not modern by any means, but it's clean, pretty quiet, the toilets are acceptable (mind your head for the hooks on the inside of the toilet door!). In the main carriage there's a small TV up front or behind which plays random TV shows and adverts. Train staff come round and check your ticket.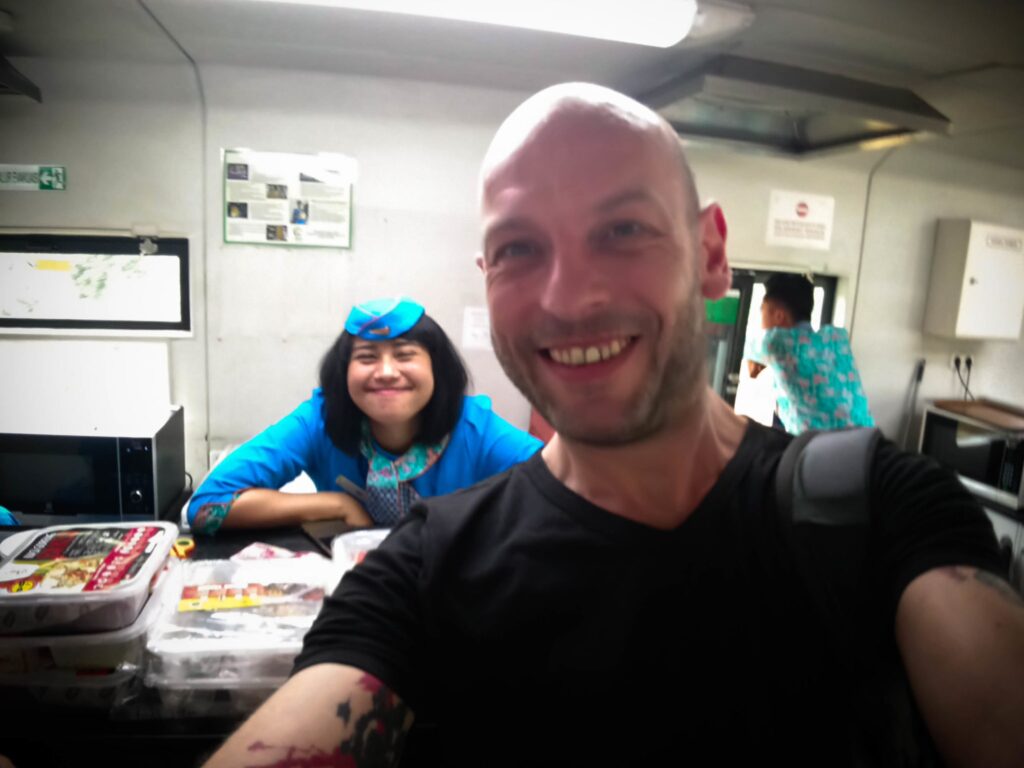 After about 20 mins a cart come's round with two staff asking if you want drinks or food… None of it is great, so I hope you packed some supplies. After we exhausted the pastries we bought we headed for something hot and found the dining car and some instant noodles, which are pretty awesome in their own right. Staff are super friendly and super smiley, and yes they wanted a selfie.
There's a couple of stops along the way if you want to stretch your legs for 5 mins or get some air, but he journey is really nice, rolling though the country side. For the best view, get the seats on the right (you can choose them when you book), as you'll be passing through stunning green natural beauty, rice fields and volcano's. It's not fast, but if you catch the early train you arrive in Yogya at about 16.30.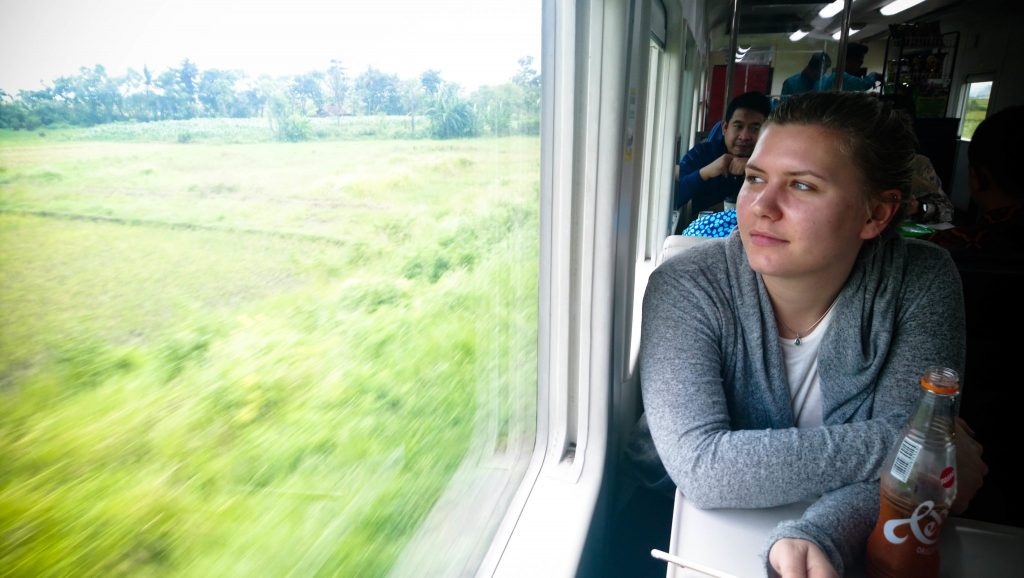 Interestingly enough, the train we caught is the same train we saw a year earlier on our Hidden Jakarta Tour.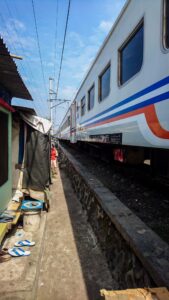 solobackpacker.com also has a great page on travelling this route.
More Indonesia!
Make sure to see our Indonesia page with tips about travel in Indonesia, map and all our blog posts about Indonesia.